America's Peacemakers: The Community Relations Service and Civil Rights (Hardcover)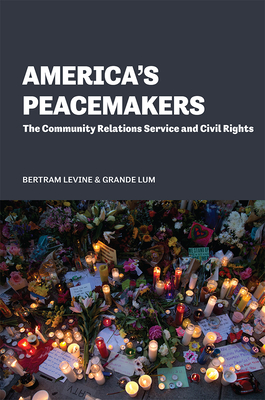 Not currently available
Usually arrives at our store in 2-8 business days.
Description
---
America's Peacemakers: The Community Relations Service and Civil Rights tells the behind-the-scenes story of a small federal agency that made a big difference in civil rights conflicts over the last half century. In this second edition of Resolving Racial Conflict: The Community Relations Service and Civil Rights, 1964–1989, Grande Lum continues Bertram Levine's excellent scholarship, expanding the narrative to consider the history of the Community Relations Service (CRS) of the U.S. Department of Justice over the course of the last three decades. That the Trump administration has sought to eliminate CRS gives this book increased urgency and relevance.
 
Covered in this expanded edition are the post–9/11 efforts of the CRS to prevent violence and hate crimes against those perceived as Middle Eastern. Also discussed are the cross-border Elián González custody dispute and the notable tragedies of Trayvon Martin and Michael Brown, both of which brought police interaction with communities of color back into the spotlight.  

The 2009 Matthew Shepard and James Byrd, Jr., Hate Crimes Prevention Act substantially altered CRS's jurisdiction, which began to focus on gender, gender identity, religion, sexual orientation, and disability in addition to race, color, and national origin. Lum's documentation of this expanded jurisdiction provides insight into the progression of civil rights. The ongoing story of the Community Relations Service is a crucial component of the national narrative on civil rights and conflict resolution. This new edition will be highly informative to all readers and useful to professionals and academics in the civil rights, dispute resolution, domestic and international peacemaking, and law enforcement-community relations fields.

 
About the Author
---
Bertram Levine was a former associate director of the U.S. Department of Justice's Community Relations Service; he died in 2006.

Grande Lum is Provost and Vice President of Academic Affairs at Menlo College and former director of the Community Relations Service (2012–2016). He lives in the San Francisco Bay Area.
Praise For…
---
"This book, America's Peacemakers, reflects on the first 50 years of this Service's extraordinary history. It also looks toward to the next 50. We must reaffirm our determination to meet intolerance with understanding, to confront ignorance with informed dialogue, and to promote opportunity, access, and inclusion – in every community and circumstance."—Eric Holder, Former United States Department of Justice Attorney General

"This is not only an important history of a major part of the American civil rights movement, it should be essential reading for anyone in the conflict resolution field."—Carrie Menkel-Meadow, UC Irvine School of Law, co-author of Dispute Resolution: Beyond the Adversarial Model

"Makes for fascinating reading, and teaches much about how to defuse and even mediate highly volatile, emotional encounters between long-standing cultural opponents."—Heidi Burgess, Co-Director, Beyond Intractability.org, co-author of Encyclopedia of Conflict Resolution and Conducting Track II Peacemaking

"America's Peacemakers is an insightful book about the intricate complexities of our history and the lessons of conflict transformation that we can apply to the challenges of the present and future in order to sustain our messy, imperfect, and courageous union.  Through deepening our understanding of multiple perspectives and the process of negotiation, we can challenge divisive definitions of patriotism, more consistently build justice, and grow greater compassion in our beloved nation."—Maya Soetoro-Ng, Faculty Specialist, Spark M. Matsunaga Institute for Peace & Conflict Resolution, University of Hawaii at Manoa
 

"(T)his book about the history of CRS is an essential historical reference to obtaining an accurate understanding of just how prescient President Johnson was in his requirement that CRS be a constituent part of the 1964 Civil Rights Act. We all owe a debt of gratitude to the authors and to the staff, both past and present, of the Community Relations Service."—Clarence Jones, Speechwriter and Lawyer to Martin Luther King Jr. (from the foreword)
 

"More than ever we need mediation, dialogue, and communication regarding our many racial and class conflicts. Every city, every state, and every nation needs non-violent mediators to intervene in the many crises that are inevitable in these complex times. In this book authors Bertram Levine and Grande Lum expertly provide the evidence for the difference CRS has made for communities throughout this country."—Andrew Young, Jr., civil rights activist and former U.S. Congressman from Georgia, U.S. Ambassador to the United Nations, and Mayor of Atlanta

"One measure of a really good story is that it engages you even when you know how the story ends. America's Peacemakers has dozens of such stories, each one an account of CRS interventions in highly volatile situations from which most people would run away. In every one of these retellings, I could practically feel the tensions and see the emotions that fueled the conflicts, threatening violence and mayhem."—Conflict Resolution Quarterly

"America's Peacekeepers builds on Bertram Levine's Resolving Racial Conflict, which chronicles the history of the CRS until 1989. Lum, a former Director of the CRS, picks up the story with a thoughtful and comprehensive discussion of the history through 2019, in five chapters on CRS interventions in the face of neo-Nazis in Skokie, Illinois; anti-Arab, Muslim, and Sikh violence after 9/11; anti-LGBTQIA+ hate crimes; the Elián González case in Miami; and hostile police-community relations in Sanford, Florida, after the fatal shooting of Trayvon Martin. Lum dissects these conflicts, as well as the strategies employed by CRS to diffuse them, through vividly told stories as well as meticulous technical details. Although it is fit for any academic syllabus, America's Peacekeepers also feels deeply personal – and tragically relevant."—Deanna Pantin Parrish, ABA Dispute Resolution Bookshelf