Mitzi and the Big Bad Nosy Wolf: A Digital Citizenship Story (Hardcover)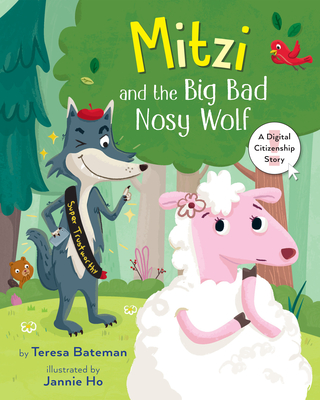 $17.99

Available for Pre-Order Now
Description
---
A clever lamb outsmarts a nosy wolf in this humorous fable about digital citizenship and internet privacy for young children.

Mitzi knows to keep personal information private. When a furry stranger named Rolf starts asking Mitzi questions about her name, where she lives, where her mom and dad work, and more, the clever Mitzi quickly devises a strategy to dispatch the nosy wolf using her dance skills!

A refrain of "That's Private!" teaches kids the importance of privacy when it comes to sharing personal information while hilarious visual gags keep the reading experience light. Perfect for teaching children how to use the internet in a safe, respectful manner, Mitzi and the Big Bad Nosy Wolf is just the book for today's young digital citizens.

Back matter includes Mitzi's Rules for Digital Citizenship, which outlines best practices when using the internet, from safety to cyberbullying; a glossary that include such terms as public, private, and digital footprint; and a memory game activity for at home or classroom use.
About the Author
---
Teresa Bateman is an award-winning author and retired school librarian. She has won both the Storytelling World Award and the Anne Izard Storyteller's Award. Her books include Keeper of Soles, an ALA Notable Children's Book, and Job Wanted, which as nominated for The Washington Children's Choice Award, The New York State Charlotte Award, the Young Hoosier Book Award, and the Virginia Readers' Choice Award. She lives in Tacoma, Washington.


Jannie Ho is a children's book illustrator and former art director and graphic designer, having worked at such places as Nickelodeon, Scholastic, and TIME Magazine for Kids. She lives in Boston, MA