Why the Cocks Fight: Dominicans, Haitians, and the Struggle for Hispaniola (Paperback)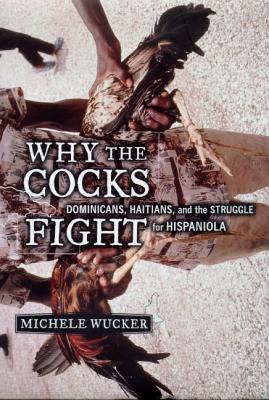 $20.00
Not currently available - email or call for details
Description
---
Like two roosters in a fighting arena, Haiti and the Dominican Republic are encircled by barriers of geography and poverty. They co-inhabit the Caribbean island of Hispaniola, but their histories are as deeply divided as their cultures: one French-speaking and black, one Spanish-speaking and mulatto. Yet, despite their antagonism, the two countries share a national symbol in the rooster--and a fundamental activity and favorite sport in the cockfight. In this book, Michele Wucker asks: "If the symbols that dominate a culture accurately express a nation's character, what kind of a country draws so heavily on images of cockfighting and roosters, birds bred to be aggressive? What does it mean when not one but two countries that are neighbors choose these symbols? Why do the cocks fight, and why do humans watch and glorify them?"

Wucker studies the cockfight ritual in considerable detail, focusing as much on the customs and histories of these two nations as on their contemporary lifestyles and politics. Her well-cited and comprehensive volume also explores the relations of each nation toward the United States, which twice invaded both Haiti (in 1915 and 1994) and the Dominican Republic (in 1916 and 1965) during the twentieth century. Just as the owners of gamecocks contrive battles between their birds as a way of playing out human conflicts, Wucker argues, Haitian and Dominican leaders often stir up nationalist disputes and exaggerate their cultural and racial differences as a way of deflecting other kinds of turmoil. Thus Why the Cocks Fight highlights the factors in Caribbean history that still affect Hispaniola today, including the often contradictory policies of the U.S.
About the Author
---
Michele Wucker is the author of Lockout: Why America Keeps Getting Immigration Wrong When Our Prosperity Depends on Getting It Right and Why the Cocks Fight: Dominicans, Haitians, and the Struggle for Hispaniola. Wucker has been recognized as a 2009 Young Global Leader of the World Economic Forum and a 2007 Guggenheim Fellow. She has held positions including president of the New York City-based World Policy Institute; vice president of studies at The Chicago Council on Global Affairs; and Latin America bureau chief at International Financing Review. She has written for The New York Times, CNN, Washington Post, Wall Street Journal, and World Policy Journal, among others. She lives in Chicago.
Praise For…
---
"A complex exploration of the cultural divide between Haiti and the Dominican Republic. Wucker . . . weaves together five centuries of tragic conflict with a subtle picture of the island today." —Patrick Markee, The New York Times Book Review

"A richly textured social history of Hispaniola . . . . A powerful cultural analysis." —Kirkus Reviews

"Impeccably researched history made current and more meaningful by first rate reporting." —Barbara Fischkin, author of Muddy Cup: A Dominican Family Comes of Age in a New America

"A delightful yet disturbingly relevant book . . . The economic, political and geographical struggles vividly occurring on Hispaniola are a microcosm of what happens all over the world." —Michael Hopkins, Milwaukee Journal Sentinel

"Wucker peels away layers of history and culture, revealing aspects of Dominican and Haitian culture few have described so clearly. Well crafted, lucidly told, and full of insight.." —Rob Ruck, Pittsburgh Post-Gazette

"A rich cultural history." —Ken Moore, Naples Daily News