Jane Grigson's Vegetable Book (At Table ) (Paperback)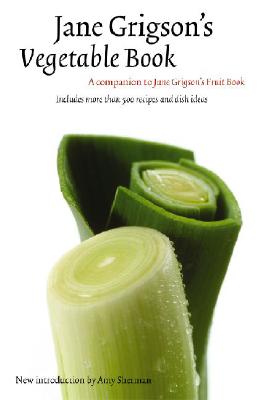 $32.95

Usually arrives at our store in 5-14 business days.
Description
---
In Jane Grigson's Vegetable Book American readers, gardeners, and food lovers will find everything they've always wanted to know about the history and romance of seventy-five different vegetables, from artichokes to yams, and will learn how to use them in hundreds of different recipes, from the exquisitely simple "Broccoli Salad" to the engagingly esoteric "Game with Tomato and Chocolate Sauce." Jane Grigson gives basic preparation and cooking instructions for all the vegetables discussed and recipes for eating them in every style from least adulterated to most adorned. This is by no means a book intended for vegetarians alone, however. There are recipes for "Cassoulet," "Chicken Gumbo," and even Dr. William Kitchiner's 1817 version of "Bubble and Squeak" (fried beef and cabbage). Jane Grigson's Vegetable Book is a joy to read and a pleasure to use in the kitchen. It will introduce you to vegetables you've never met before, develop your friendship with those you know only in passing, and renew your romance with some you've come to take for granted. This edition has a special introduction for American readers, tables of equivalent weights and measures, and a glossary, which make the book as accessible to Americans as it is to those in Grigson's native England.
About the Author
---
Jane Grigson (1928–90) was brought up in the northeast of England, where there is a strong tradition of good eating. In 1968 she began writing cookery articles for the Observer Colour Magazine; the Bison Books edition of Good Things is a collection from this highly successful series. Jane Grigson's Fruit Book is also available in a Bison Books edition. Grigson posthumously received the 2009 James Beard Foundation Cookbook Hall of Fame Book Award for her entire body of work. Amy Sherman studied the culinary arts in Italy and is a San Francisco-based food reviewer and an avid cooking blogger at http://cookingwithamy.blogspot.com/.
Praise For…
---
"The best cookbooks stimulate your imagination so that the freshest flavours come across as temptingly as if they were on the plate in front of you. This is that kind of book."—Scotsman

"As usual, Jane Grigson combines a dry wit with her scholarship and reading. Most of her recipes are refreshingly simple and uncomplicated."—Observer

"Her recipes work, they are sensible and yet have that flair which makes this an invaluable book for anyone to have in their kitchens."—Sunday Telegraph