33 Snowfish (Paperback)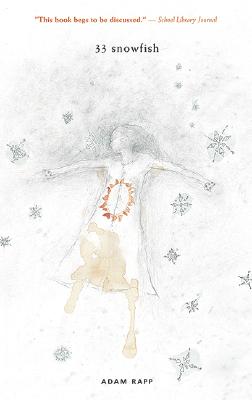 $8.79
Not currently available - email or call for details
Description
---
"Adam Rapp's brilliant and haunting story will break your heart. But then his words will mend it. . . . Absolutely unforgettable." — Michael Cart

On the run in a stolen car with a kidnapped baby in tow, Custis, Curl, and Boobie are three young people with deeply troubled pasts and bleak futures. As they struggle to find a new life for themselves, it becomes painfully clear that none of them will ever be able to leave the past behind. Yet for one, redemption is waiting in the unlikeliest of places. 

With the raw language of the street and lyrical, stream-of-consciousness prose, Adam Rapp hurtles the reader into a world of lost children, a world that is not for the faint of heart. Gripping, disturbing, and starkly illuminating, his hypnotic narration captures the voices of two damaged souls — a third speaks only through drawings — to tell a story of alienation, deprivation, and ultimately, the saving power of compassion.
About the Author
---
Adam Rapp is the acclaimed author of several novels for young adults, as well as an accomplished playwright whose plays have been produced by the New York Theatre Workshop, The Bush Theatre in London, and the American Repertory Theater in Cambridge, Massachusetts. Of 33 SNOWFISH, he says, "When we have nowhere to go, who do we turn
to? Why are we sometimes drawn to those who are deeply troubled? How
far do we have to run before we find new possibilities? These were some of the questions that kept haunting me while I was working on this book."

Timothy Basil Ering's drawings in 33 SNOWFISH represent the notebook sketches of the troubled character Boobie, and he also created the book's cover image. Tim Ering says, "I always think of illustration almost as a form of acting. When you receive a manuscript, you have to get into character and imagine being that character and what he or she is thinking. In this case, I also had to imagine how this character would draw, and how his drawing might change or shrink on the page according to his changing state of mind."