Journey to the Best: How I Became a Dragon, a Prince, a Pirate, and the World's Number One Superhero (Hardcover)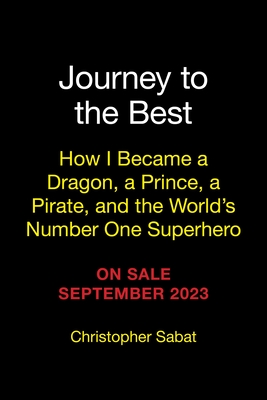 Description
---
Explore the rise of Dragon Ball and anime into mainstream American culture through the life and career of legendary voice actor Christopher Sabat as he revisits his work as the voice of 700+ characters in this compelling memoir.  

Anime has grown a lot since the early '90s and voice actor Christopher Sabat would know . . . he was there when it all started. 

On screen, Chris is a prince, a pirate, and the ultimate hero. Off-screen he is a guy with an unusually deep voice, who is beloved by his fans. But Chris is more than just a voice actor and director, ADR engineer, and the founder and director of an audio production company—he is also one of the initial members of the Funimation team that helped anime become what it is today in America.

An honest, humorous recollection of the inner workings of the anime industry and the story of a man with many voices, Journey to the Best reveals, in vivid detail, Chris's journey from behind the soundboard to behind a microphone, along with the wild west-like nature of the early days of Funimation and the life-long friendships that were formed in tiny voice action booths with minimal equipment. Chris's insider knowledge and engaging personal stories illustrate the challenges facing anime as it found its footing in the United States, the humble beginnings of Dragon Ball Z and the people who brought it to life for English-speaking audiences, and the faith and passion of the fan base that built the industry into the massive powerhouse it is today. 
About the Author
---
Christopher Sabat was a classically trained opera soloist considering whether or not to finish his degree when he discovered something amazing—the fathoms-deep baritone he was blessed with could do more than just sing, it could also help tell some pretty amazing stories. For over three decades Chris has served as Executive Producer and provided the voice of Prince Vegeta, Piccolo, Yamcha, and many others for the worldwide phenomenon known as Dragon Ball Z—the brainchild of genius mangaka Akira Toriyama and the cherished favorite of hundreds of millions of fans across the globe.