Inferno (Paperback)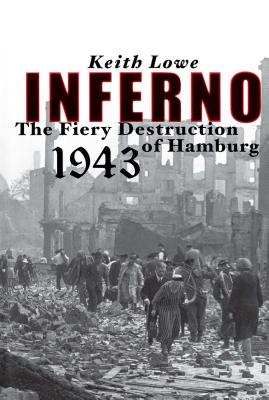 Not currently available
Special Order, Subject to Availability
About the Author
---
Keith Lowe is an editor in the United Kingdom and the author of Tunnel Vision. He lives in London.
Praise For…
---
"Not since Len Deighton's classic Bomber has there been a book which re-created with such objectivity both sides of the story, or which painted in such vivid detail the destruction of a city, and the sufferings of those who lived there, and those British and American young men who put their lives at risk to destroy it."
-- Michael Korda, author of Ulysses S. Grant and Journey to a Revolution



"Facts and figures cannot do justice to the sheer horror of what happened to Hamburg in July 1943. But Keith Lowe's admirable book, which is impeccably researched and engagingly written, is full of moving little details and stories. A thoroughly engaging and sobering book. There are rather too many military histories of the Second World War, but this one deserves its place on the shelves."
-- Dominic Sandbrook, The Daily Telegraph (London)



"If anyone still believes that war is a glamorous business, they should read this brilliantly researched book. The author has produced many new firsthand accounts, which give a human face to a tale of epic destruction."
-- Paul Callan, Daily Express (London)



"Was the destruction of Hamburg an Allied war crime or the moment when ordinary Germans realized that they couldn't win the struggle except at prohibitive cost? Or was it perhaps both? Keith Lowe's admirably objective book allows you to make your own judgment on the only criterion that counts: what Total War really meant at the time."
-- Andrew Roberts, author of A History of the English-Speaking Peoples Since 1900



"This is a brilliant book with a skillful mix of eyewitness accounts and deeply researched narrative. The appalling stories of German civilians caught in the Hamburg firestorm are balanced with the equally mind-numbing experiences of the RAF, USAAF, and Luftwaffe aircrews who battled in the skies over Europe by day and night."
-- Major General Julian Thompson



"A real triumph: shocking, yet sensitive and supremely fair-minded. This is a wonderful book about hellish events."
-- Richard Holmes, author of Acts of War and editor of The Oxford Companion to Military History



"A grim and timely reminder of the terrible cost of war, Inferno is a brilliantly told story of the destruction of Hamburg by the Allies in 1943 by a talented new author. Keith Lowe writes compassionately of death, agony, courage, and survival in the hell of a doomed city. Highly recommended."
-- Carlo D'Este, author of Decision in Normandy and Eisenhower