The Mostly True Adventures of Homer P. Figg (Compact Disc)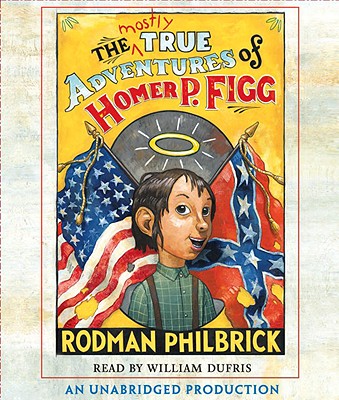 $28.00
Email or call for availability
Description
---
Although he is underage, Homer P. Figg's beloved older brother, Harold, is illegally sold into the Union Army by their ruthless guardian. Now Homer must run away from Pine Swamp, Maine, and his wretched home to find his brother and save him from the war, before it's too late.
In a story filled with adventure, humor, and danger, award-winning novelist Rodman Philbrick tells of the turbulent, passionate times-from rural Maine to the Battle of Gettysburg--in the Civil War. Here is historical fiction at its most engaging, portraying the 1860s through the observant eyes of a backwoods boy who is both courageous and funny-and always willing to stretch the truth to his own advantage. A master of plot twists and vivid characters, Philbrick sweeps readers into the unpredictable events--both colorful and tragic--of this powerful turning point in American history.
About the Author
---
Rodman Philbrick's first novel for young readers, Freak the Mighty, won the California Young Readers Medal as well as numerous state awards. The sequel, Max the Mighty, received starred reviews, and his novel The Fire Pony was named a 1996 Capital Choice. His most recent books for the Blue Sky Press include The Last Book in the Universe, which was named an ALA Best Book for Young Adults and a Notable Social Studies Trade Book for Young People, and The Young Man and the Sea, which was a School Library Journal Best Book of 2004 and received the Child Magazine Best Children's Book Award.