Yule: Rituals, Recipes & Lore for the Winter Solstice (Llewellyn's Sabbat Essentials #7) (Paperback)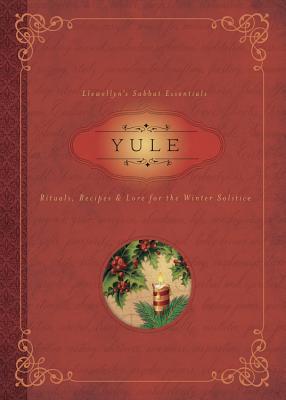 $12.99

Usually arrives at our store in 5-14 business days.
Description
---
Yule--also known as the Winter Solstice--is celebrated when nighttime has reached its maximum length, and there is a promise of brighter days to come as candles are lit and feasts are enjoyed. This guide shows you how to perform rituals and work magic with the energy of rebirth and renewal that comes with the return of the light.
Rituals
Recipes
Lore
Spells
Divination
Crafts
Correspondences
Invocations
Prayers
Meditations
Llewellyn's Sabbat Essentials explore the old and new ways of celebrating the seasonal rites that are the cornerstones of the witch's year.
About the Author
---
Llewellyn Publications has grown and expanded into new areas of personal growth and transformation since it began as the Portland School of Astrology in 1901. Along with the strong line of astrology books the company was founded upon, Llewellyn publishes books on everything from alternative health and healing, Wicca and Paganism, to metaphysics and the paranormal-and since 1994 has published a growing list of Spanish-language titles. Llewellyn has long been know as one of America's leading publishers of New Age books, producing a wide variety of valuable tools for transformation of the mind, body and spirit. Reach for the Moon-and discover that self-help and spiritual growth is what Llewellyn is all about.As the world's oldest and largest independent publisher of books for body, mind, and spirit, Llewellyn is dedicated to bringing our readers the very best in metaphysical books and resources. Since 1901, we've been at the forefront of holistic and metaphysical publishing and thought. We've been a source of illumination, instruction, and new perspectives on a wealth of topics, including astrology, tarot, wellness, earth-based spirituality, magic, and the paranormal. From e-books to tarot-themed iPhone apps, Llewellyn has embraced the Digital Age to continue our mission. Llewellyn also partners with Italian publisher Lo Scarabeo, as the exclusive US and Canadian distributor of their beautiful tarot and oracle decks. They also partner with Blue Angel, an Australian publisher of oracles, books, CDs, and other sidelines. Susan "Moonwriter" Pesznecker is a writer, college English teacher, nurse, and hearth Pagan/Druid living in northwestern Oregon. Sue holds a Masters degree in professional writing and loves to read, watch the stars, camp with her wonder poodle, and work in her own biodynamic garden. She is co-founder of the Druid Grove of Two Coasts and the online Ars Viarum Magicarum--A Magical Conservatory and Community. Sue has authored Yule: Rituals, Recipes, & Lore for the Winter Solstice (Llewellyn, 2015); The Magickal Retreat (Llewellyn, 2012); and Crafting Magick with Pen and Ink (Llewellyn, 2009); and is a regular contributor to Llewellyn's almanacs and calendars. Visit her online at http: //www.susanpesznecker.com/.