My Grandma's a Ninja (Hardcover)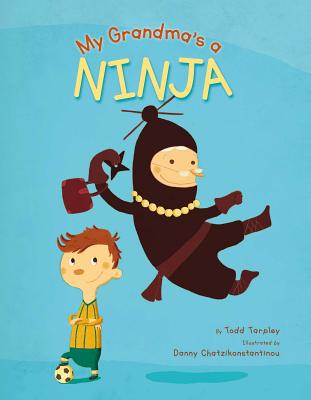 $19.75
Not currently available - email or call for details
Description
---
"Terrific as a read-aloud... a wonderful message of tolerance, acceptance, and unconditional love."- Amy Shepherd, School Library Journal

A laugh-out-loud story about a karate-chopping grandma that will have children wondering what exceptional, out-of-the-box and surprising talents their grandparents might have!

When Ethan's grandma suggests they take a zip line to school, Ethan realizes that his grandma is a little different. In fact, she's a ninja! Ethan is soon the hit of the school when his grandma drops from the ceiling at show-and-tell, and teaches the kids karate moves and how to do back flips in slow motion.

But having a ninja for a grandma is not everything Ethan hoped it would be. When his grandma deflates his team's soccer ball, everyone is upset—including Ethan. Why can't he just have a regular grandma? he wonders, until his new karate moves help him out during the championship game and everyone is happy that his grandma isn't quite ordinary.
About the Author
---
Todd Tarpley is a former ninja who still enjoys covering himself in mud and leaves. He is the author of several picture books, including Ten Tiny Toes illustrated by Marc Brown. He lives with his relatively normal family in New York City. You can visit him attoddtarpley.com.

Danny Chatzikonstantinou was born in 1973. He illustrates children's books and sometimes writes the words too. He learned his craft by drawing on napkins. Later, he moved to sketch pads and notebooks. Now he has a full set of sharpened pencils and tons of
Praise For…
---
"My Grandma's a Ninja is a silly children's picturebook about a young boy whose grandma is a black-clad ninja! At first it seems amazing that she can leap through the air and teach his friends karate moves, but there are drawback. She deflates the soccer ball with one kick, and when she has him put mud and leaves on himself for camouflage, he gets in trouble with his mom. Can he persuade his Grandma to tone down her ninja-ness without hurting her feelings? Or does she have something completely different in mind? Exuberant color illustrations add just the right dose of whimsy to this playful story."
— Midwest Book Review