Bash and Lucy Say, Love, Love, Bark! (Paperback)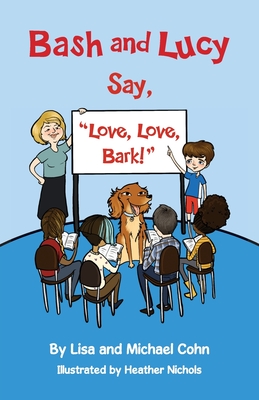 $12.99

Usually arrives at our store in 5-14 business days.
Description
---
(The authors will donate100% of the proceeds from sales of this book and ebook to the Ukrainian Foundation in April and May)
Who Stole the Dog Books? Can Dog-tention Save the Day?
Someone has been stealing Bash's favorite dog books from the library, books that help calm him when the world is too loud, too bright, or too busy.
Bash enlists the aid of Grandma Vera, a feisty immigrant from Ukraine and the town's assistant mayor, to help identify the thief. He also recruits his sister, Ally, a spunky mayor-dancer-librarian. Of course, the investigation also requires the super senses of Bash's golden retriever, Lucy.
Ally and Grandma Vera, with Lucy by their side, tackle the mystery of the missing books while they pursue their mission of helping people get along better. Their message: Let's embrace the goodness of dogs. To spread their message, Vera and Ally establish daily canine-adoring holidays. They also invent "Dog-tention," which transforms troublemakers, naysayers, and bullies into dog lovers.
Can Bash, Vera, Ally, and Lucy find the book thief, end the arguing and bullying, and help people work together?
Written by Lisa Cohn (Mom) and Michael Cohn (age 14), award-winning authors who have appeared on the Today Show, AM Northwest, in Disney's Babble, the Oregonian and other media outlets.