The Horde: How the Mongols Changed the World (Paperback)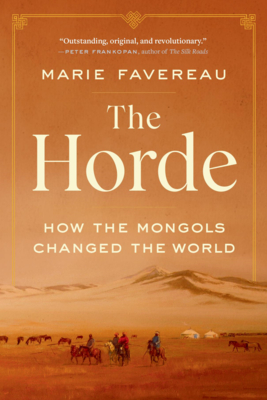 $18.95

Usually arrives at our store in 5-14 business days.
Description
---
Cundill Prize Finalist
A Financial Times Book of the Year
A Spectator Book of the Year
A Five Books Book of the Year
The Mongols are known for one thing: conquest. But in this first comprehensive history of the Horde, the western portion of the Mongol empire that arose after the death of Chinggis Khan, Marie Favereau takes us inside one of the most powerful engines of economic integration in world history to show that their accomplishments extended far beyond the battlefield. Central to the extraordinary commercial boom that brought distant civilizations in contact for the first time, the Horde had a unique political regime--a complex power-sharing arrangement between the khan and nobility--that rewarded skillful administrators and fostered a mobile, innovative economic order. From their capital on the lower Volga River, the Mongols influenced state structures in Russia and across the Islamic world, disseminated sophisticated theories about the natural world, and introduced new ideas of religious tolerance. An eloquent, ambitious, and definitive portrait of an empire that has long been too little understood,
The Horde
challenges our assumptions that nomads are peripheral to history and makes it clear that we live in a world shaped by Mongols. "The Mongols have been ill-served by history, the victims of an unfortunate mixture of prejudice and perplexity...The Horde flourished, in Favereau's fresh, persuasive telling, precisely because it was not the one-trick homicidal rabble of legend."
--
Wall Street Journal
"Fascinating...The Mongols were a sophisticated people with an impressive talent for government and a sensitive relationship with the natural world...An impressively researched and intelligently reasoned book."
--
The Times