Duma says: Let's Live! (Paperback)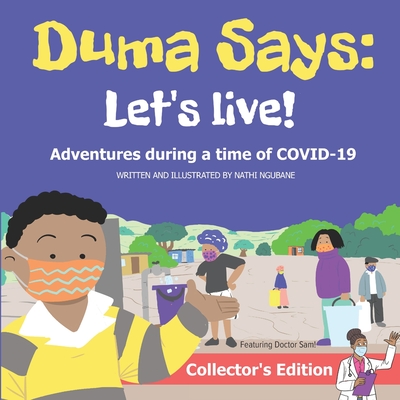 Description
---
A collector's item All three books in one special volume Now with a special introduction from author Nathi Ngubane and special advice for kids from Doctor Sam
All proceeds donated to the Open Air School, Durban South Africa, for learners with special needs.Book 1: Duma Says: Wash your hands and wear a Mask
Synopsis: Duma says" is about the adventures of Duma, his sister Zihle and their friends, as they try to find their way during the coronavirus pandemic in South Africa.
Book 2: Duma Says: Let's Learn
Synopsis: With schools still closed because of the coronavirus, Duma, Zinhle and Wandile are bored at home. Wandile and Duma have played every game with Bhubusi and Zinhle has read all her story books. They miss school and all the things they learn and all the friends they see. But then Duma gets an idea: if they can't go to school, why can't the school come to them?
Book 3: Come, Let's play
Children in the community have been enjoying their classes with Zinhle and Lebo. It has lifted their spirits though Zinhle knows that all work and no play would make Duma a dull boy But what could they play during a time of covid-19 that would keep them safe and healthy? And would they be able to keep their social distance? The children come up with a plan.
As seen on New Frame, Al Jazeera, Daily Maverick, ENCA and others.
'Duma Says is an easy-to-read, empowering story about the importance of staying safe during the coronavirus pandemic, not only children but the community as a whole' -
New Frame
'An educational book series geared for children from underprivileged backgrounds' - Daily Maverick
Reviews from the little ones
'Duma Says is a little book with a big powerful message' -
Humza
, 11
'The kids find a way to be safe and have fun' - Nina, 9
'It shows there is good in everyone, even in dark times' - Zaynab, 11
'I like the characters are very positive, even during this hard time' Ifrah, 9
'It's surprising how other children have different opportunities than me' - Omar, 7