Level Up: Rise Above the Hidden Forces Holding Your Business Back (Hardcover)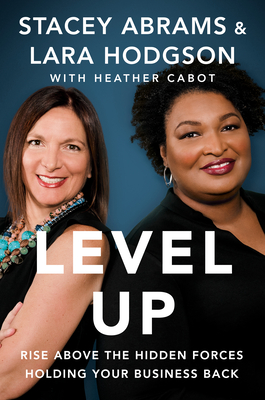 $26.00

Usually arrives at our store in 5-14 business days.
Description
---
An inspiring and revelatory guide to starting and scaling a small business, from powerhouse duo Stacey Abrams and Lara Hodgson

Like many business owners, renowned politician and activist Stacey Abrams didn't start a business because she dreamed of calling herself an entrepreneur. Her part-time post (and its $17,310 annual salary) as a member of the Georgia House of Representatives necessitated striking out on her own as a consultant—her first small business. Then, Stacey and her friend Lara Hodgson launched an infrastructure advisory firm—named Insomnia Consulting because they did their best thinking at 3:00 a.m.—and then another business, and then another.

Fifteen years into their entrepreneurial journey together, they have tackled the obstacles that many business owners face: how to grow sustainably, hire thoughtfully, and keep up with the Goliaths in your industry.

Now, for the first time, Stacey and Lara share their inspiring and relatable personal story and lessons learned the hard way to show how every business owner can confront the forces that conspire to keep small businesses small. Lauded for her "resilient, visionary leadership" (Barack Obama) and celebrated as a "passionate advocate of democracy" (Madeleine Albright), Stacey now brings her fierce sense of justice to the challenges that America's business owners face. Level Up arms readers with the confidence, know-how, and savvy to overcome the obstacles that hold their businesses back.
About the Author
---
STACEY ABRAMS is the three-time New York Times bestselling author of While Justice Sleeps, Our Time is Now, and Lead from the Outside, an entrepreneur; and a political leader. A tax attorney by training, she served eleven years in the Georgia House of Representatives and seven as Minority Leader. Abrams has launched multiple organizations devoted to voting rights, training and hiring young people of color, and tackling social issues at the state, national, and international levels. She is the founder of Fair Fight, Fair Count, and the Southern Economic Advancement Project. A small business owner, Abrams co-founded the financial services firm NOW Corp. and Sage Works Productions, Inc., a media company. She has received degrees from Spelman College, the LBJ School of Public Affairs at the University of Texas, and Yale Law School.

LARA HODGSON is President and CEO of NOW Corp, and has served as an Entrepreneur in Residence at Harvard Business School. Prior to Now, Lara co-founded Nourish (a children's products company), and Insomnia, LLC, a firm specializing in investment, development, and management of complex and innovative "worldchanging" projects. Her background also includes 5 years with Dewberry Capital Corporation, an Atlanta-based commercial real estate development and investment firm, where she served as the company's Chief Marketing Officer and Chief Operating Officer. Lara received an MBA from the Harvard Business School, and a BS in Aerospace Engineering with highest honors from the Georgia Institute of Technology. Today, she serves as a Trustee of the Georgia Tech Foundation in addition to other Boards. E&Y recognized Lara as a 2018 Finalist for the Southeast Entrepreneur of the Year. and named her to the Entrepreneurial Winning Women Class of 2019.

HEATHER CABOT is an award-winning journalist, author, and former ABC News correspondent/anchor. She is the author of the critically-acclaimed business narrative, The New Chardonnay: The Unlikely Story of How Marijuana Went Mainstream (Currency, 2020), co-author of Geek Girl Rising: Inside the Sisterhood Shaking Up Tech (St. Martin's Press, 2017), and a freelance writer published in Forbes, Elle, Parents, The Huffington Post, People, USA Today, and more. Following her time reporting for ABC's Good Morning America and anchoring World News Now/World News This Morning, Cabot served as Yahoo! Web Life Editor from 2007-12 and appeared regularly on NBC's TODAY, cable news outlets, and daytime TV talk shows to report on consumer tech and digital trends. She is a member of the Alumni Board of Columbia University Graduate School of Journalism and was an adjunct professor at the school from 2012-17.
Praise For…
---
Praise for Level Up

"A fresh take on entrepreneurial endeavors and a love letter to small businesses everywhere… packed with insight and inspiration from two successful entrepreneurs." -- Kirkus (starred review)

"Essential reading for every current and potential small-business owner...brilliantly written, deeply insightful." -- Booklist (starred review)

"… enormously validating… Small business owners who feel lost in the trenches should give this a look." -- Publishers Weekly

"A practical, how-to manual with examples and actionable principles for founders looking to innovate, break free and move forward." -- Financial Times

"Beyond the great wealth of business experience, expertise, and advice they bring to the table, the greatest example Stacey Abrams and Lara Hodgson offer may be in the partnership they have formed and sustained while building three companies together." -- Porchlight Books