Cues: Master the Secret Language of Charismatic Communication (Hardcover)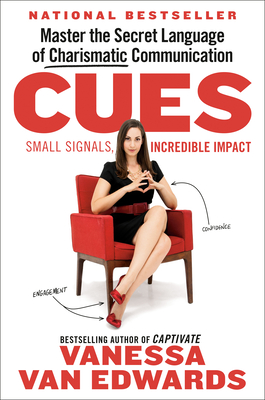 Description
---
Wall Street Journal bestseller!
 
For anyone who wants to be heard at work, earn that overdue promotion, or win more clients, deals, and projects, the bestselling author of Captivate, Vanessa Van Edwards, shares her advanced guide to improving professional relationships through the power of cues.

What makes someone charismatic? Why do some captivate a room, while others have trouble managing a small meeting? What makes some ideas spread, while other good ones fall by the wayside? If you have ever been interrupted in meetings, overlooked for career opportunities or had your ideas ignored, your cues may be the problem – and the solution.

Cues – the tiny signals we send to others 24/7 through our body language, facial expressions, word choice, and vocal inflection – have a massive impact on how we, and our ideas, come across. Our cues can either enhance our message or undermine it.

In this entertaining and accessible guide to the hidden language of cues, Vanessa Van Edwards teaches you how to convey power, trust, leadership, likeability, and charisma in every interaction. You'll learn:

  •  Which body language cues assert, "I'm a leader, and here's why you should join me."
  •  Which vocal cues make you sound more confident
  •  Which verbal cues to use in your résumé, branding, and emails to increase trust (and generate excitement about interacting with you.)
  •  Which visual cues you are sending in your profile pictures, clothing, and professional brand.
 
Whether you're pitching an investment, negotiating a job offer, or having a tough conversation with a colleague, cues can help you improve your relationships, express empathy, and create meaningful connections with lasting impact. This is an indispensable guide for entrepreneurs, team leaders, young professionals, and anyone who wants to be more influential.
About the Author
---
Vanessa Van Edwards is a speaker, researcher, and nationally bestselling author. More than 36 million people have seen her on YouTube and in her viral TEDxLondon talk. Her behavior research lab, Science of People, has been featured in Fast Company, Inc., USA Today, Entrepreneur magazine, and many more places, including on CNN and CBS. Her book Captivate: The Science of Succeeding with People has been translated into more than sixteen languages. For more than a decade, she has been leading corporate trainings and workshops to audiences around the world, including at SXSW and MIT, and at companies including Google, Dove, Microsoft, and Comcast. She lives with her husband and daughter in Austin, Texas.
Praise For…
---
"A must-have guide to becoming an unstoppable force. Packed with tactical, useful information, Van Edwards distills years of research to help you become more confident, influential, and respected. Read this book and learn how to amplify your power while remaining true to yourself."
—Mel Robbins, New York Times bestselling author of The High 5 Habit
 
"If your goal is to level up your communication and deepen your relationships, Van Edwards is the expert you've been looking for."
—Tom Bilyeu, cofounder of Quest Nutrition and the cofounder and host of Impact Theory
 
"A delightful decoder ring for the subtle social signals you're missing."
—Olivia Fox Cabane, author of The Charisma Myth
 
"The success of your idea lies not in the idea itself, but in your ability to brilliantly present it. Read this book and watch your ideas come to life."
—John Jantsch, author of Duct Tape Marketing and The Ultimate Marketing Engine
 
"Packed with invaluable strategies for maximizing your message, Van Edwards's energy will inspire you to become the best possible version of yourself."
—Nir Eyal, author of Hooked and Indistractable
 
"If there's one thing I've learned after countless interviews with entrepreneurs, it's that YOU have what it takes to achieve all your goals. You just need Van Edwards's marvelous book to help you along the way."
—John Lee Dumas, host of Entrepreneurs on Fire podcast and author of The Common Path to Uncommon Success
 
"Van Edwards is a genius when it comes to people. And this book is your guide to being a master communicator."
—Joe Gebbia, philanthropist and cofounder of Airbnb
 
"Finally, a book that honors the many subtle and important cues we send each other every day. Van Edwards shares a detailed road map for understanding others and leveraging these powerful signals."
—Ximena Vengoechea, author of Listen Like You Mean It
 
"You need people skills in order to do your best work. Get this wonderfully practical, insightful book, and collaborate ten times more successfully with your team."
—Charlie Gilkey, award-winning author of Start Finishing and Workways (forthcoming)