Those Who Are Saved (Paperback)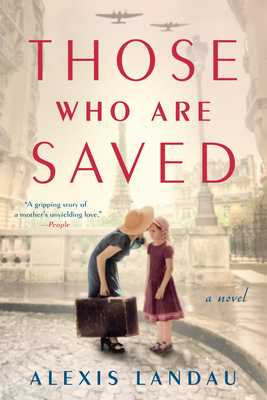 Description
---
In the spirit of We Were the Lucky Ones and We Must Be Brave, a heartbreaking World War II novel of one mother's impossible choice, and her search for her daughter against the odds.

Vera's wealth cannot protect her or her four-year-old-daughter, Lucie, once the Nazis occupy France. Ordered to report to an internment camp, Russian Jewish Vera must make an impossible choice: bring Lucie with her, or put her into hiding? Believing the war will end soon, Vera chooses to leave Lucie in safety. She cannot know that she and her husband will have an opportunity to escape, to flee to America. She cannot know that Lucie will be too far to reach in time.

And so begins a heartbreaking separation and journey, a war and a continent apart. Vera's marriage will falter under the surreal sun of California. But her determination to return to France and find Lucie will only grow. Then she meets Sasha, a man on his own search for meaning. Together, they will travel to France in search of Lucie, discovering her fate.

About the Author
---
Alexis Landau is a graduate of Vassar College and received an MFA from Emerson College and a Ph.D. in English literature and creative writing from the University of Southern California. She is the author of The Empire of the Senses and lives with her husband and two children in Los Angeles.
Praise For…
---
Advance Praise for Those Who Are Saved

"Sweeping and lyrical, this is a gripping story of a mother's unyielding love." –People

"Lustrous prose and tight pacing….Those Who Are Saved binds the reader into a story of maternal love, erotic desire, and sweeping romance. I was carried away from beginning to end." —Viet Thanh Nguyen, author of The Sympathizer
 
"A profound and engaging story—Landau writes of the endurance of parental love in the face of Nazi occupation and terror, of finding those who were lost. I loved it." —Paulette Jiles, author of National Book Award finalist News of the World
 
"A heartrending story of the unbreakable bond of maternal love….This gripping and compassionate novel continues to haunt me." —Lauren Belfer, author of And After the Fire, recipient of the National Jewish Book Award

"Subtle and skilful….Absolutely haunting." —Frances Liardet, author of We Must Be Brave
 
"A major nov­el, rich­ly imagined. –Jewish Book Council

"Satisfying and authentic." —AARP
 
"Powerful…Landau brilliantly explores the blurred lines between good and evil as the characters wrestle with their own dire decisions and the choices of those they love. Once this magnetic book takes hold, it doesn't let go." –Publishers Weekly, starred review

"[Landau] does a fine job of exploring the themes of loss and privilege against the backdrop of history and culture, particularly of the 1940s Hollywood scene." –Reform Judaism Magazine

"Exquisite. . . Those Who Are Saved is a complex, breathtaking story about personal and artistic survival…Highly recommended." –Historical Novels Review
 
"Hard-hitting. . . Landau confidently illuminates her settings and her characters' psyches, [and] Vera's unwavering resolve to find Lucie amid the chaos of postwar France feels arrestingly real." –Booklist
 
"[Landau] thoughtfully juxtaposes moments of daily life with the broader scale of war." –Library Journal
 
"This book plumbs the role privilege plays in fate." –Kirkus
 
"Imbued with vivid, lush imagery and written with enormous sensitivity and heart, this gem of a novel has everything that I love in historical fiction, and it is one of the best I've read this year.  I treasured every page." —Roxanne Veletzos, author of The Girl They Left Behind
 
"An achingly beautiful epoch about love's endurance. I was hooked from the start…Alexis Landau is an amazing storyteller and her novel will whisper to you long after you finish." —Devin Murphy, author of The Boat Runner

"Gorgeously written….An unforgettable story of heartbreak, but ultimately of hope, resilience, and love–I could not put this book down!" –Jillian Cantor, author of In Another Time and Half Life