Humor, Seriously: Why Humor Is a Secret Weapon in Business and Life (And how anyone can harness it. Even you.) (Hardcover)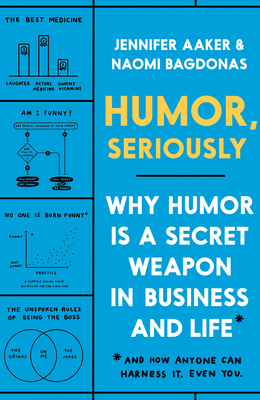 Description
---
WALL STREET JOURNAL, LOS ANGELES TIMES, AND USA TODAY BESTSELLER • Anyone—even you!—can learn how to harness the power of humor in business (and life), based on the popular class at Stanford's Graduate School of Business.
 
Don't miss the authors' TED Talk, "Why great leaders take humor seriously," online now.

"The ultimate guide to using the magical power of funny as a tool for leadership and a force for good."—Daniel H. Pink, #1 New York Times bestselling author of When and Drive

We are living through a period of unprecedented uncertainty and upheaval in both our personal and professional lives. So it should come as a surprise to exactly no one that trust, human connection, and mental well-being are all on the decline.
 
This may seem like no laughing matter. Yet, the research shows that humor and laughter are among the most valuable tools we have at our disposal for strengthening bonds and relationships, diffusing stress and tension, boosting resilience, and performing when the stakes are high. 
 
That's why Jennifer Aaker and Naomi Bagdonas teach the popular course Humor: Serious Business at the Stanford Graduate School of Business, where they help some of the world's most hard-driving, blazer-wearing business minds infuse more humor and levity into their work and lives.

In Humor, Seriously, they draw on findings by behavioral scientists, world-class comedians, and inspiring business leaders to reveal how humor works and—more important—how you can use more of it, better.

Aaker and Bagdonas unpack the theory and application of humor: what makes something funny, how to mine your life for material, and simple ways to identify and leverage your unique humor style. They show how to use humor to rebuild vital connections; appear more confident, competent, and authentic at work; and foster cultures where levity and creativity can thrive.

President Dwight David Eisenhower once said, "A sense of humor is part of the art of leadership, of getting along with people, of getting things done." If Dwight David Eisenhower, the second least naturally funny president (after Franklin Pierce), thought humor was necessary to win wars, build highways, and warn against the military-industrial complex, then you might consider learning it too.
About the Author
---
Dr. Jennifer Aaker is the General Atlantic Professor at the Stanford Graduate School of Business and a leading expert on how purpose and meaning shape individual choices and how technology can positively impact human well-being and company growth. Her work has been widely published in leading scientific journals, and featured in The Economist, The New York Times, The Wall Street Journal, The Atlantic, and Science. A recipient of the Distinguished Scientific Achievement Award, and MBA Professor of the Year, Aaker counts winning a dance-off in the early 1980s among her greatest feats. 
 
Naomi Bagdonas is a lecturer at the Stanford Graduate School of Business and an executive coach. She facilitates interactive sessions for leaders, Fortune 100 companies, and nonprofits and coaches executives and celebrities for appearances on shows ranging from Saturday Night Live to Today. Formerly trained at the Upright Citizens Brigade Theatre, Bagdonas performs at comedy venues and teaches improv in San Francisco's county jail. Her constant stream of foster dogs describe her as gullible and full of treats.
Praise For…
---
"A smart, funny, brilliant book on how to be smart about being funny, brilliantly. And I'm not just saying that because they say I am smart, funny, and brilliant in it. Buy it."—Sarah Cooper, comedian and author of 100 Tricks to Appear Smart in Meetings
 
"I've learned (often the hard way) that the best way to be taken seriously is to not take yourself too seriously. My teams are always at their best when approaching problems with levity, which entails both humility and optimism and always engenders trust. Plus, it's more fun—like this book!"—Eric Schmidt, former CEO and executive chair of Google (Alphabet)
 
"Humor is an act of social courage that, when used correctly, has a transformative effect. Humor, Seriously gives us the tools we need to deploy humor expertly in any environment."—Susan Cain, #1 New York Times bestselling author of Quiet
 
"If you think your workplace would work better if everyone laughed more, this is your playbook."—Chip Heath, #1 New York Times bestselling author of The Power of Moments
 
"Jennifer Aaker and Naomi Bagdonas make a scientific case for the importance of humor and show that it's an incredible way to connect with customers and build culture. This book will help anyone embrace the power of laughter."—Sara Blakley, founder and CEO of Spanx  
 
"A sharp, incisive, and genuinely funny read that translates knowledge of the world of comedy to tools that actually work in the world of business."—Anne Libera, director of comedy studies at The Second City
 
"Business is serious and the world is serious, especially right now. That means we need the ideas described in Humor, Seriously even more than ever. Not because levity and humor are ways to relieve the pressure of serious times, although they are, but because they unlock our humanity in the moments where we most need it."—Tim Brown, chair of IDEO and author of Change by Design

"Eye-opening, hilarious, and absolutely original, Humor, Seriously will change the way you think on the job, about the world, and in your life."—­Leslie Blodgett, founder and former CEO of Bare Escentuals

"Fresh, profound, and consistently entertaining. I know the words 'evidence-based' don't immediately connote riotous laughter, but Aaker and Bagdonas bring some irresistibly compelling science to the art and application of humor."—Kelly Leonard, executive vice president of The Second City
 
"Of all the known ways to ruin humor, the most common start with the words 'research,' 'analyze,' and 'professor.' The bad news is that this book features all of those words. Prominently. The good news is that against all odds, you'll actually have fun reading it."—Adam Grant, New York Times bestselling author of Originals and Give and Take, and host of the TED podcast WorkLife
 
"In this eye-opening, important and utterly enjoyable book, Jennifer Aaker and Naomi Bagdonas use science to explain how humor at work (and in life) helps alleviate stress, anxiety, and burnout. Come for the humor, stay for the insights."—Arianna Huffington, co-founder of The Huffington Post and CEO of Thrive Global