Want to Go Private? (Hardcover)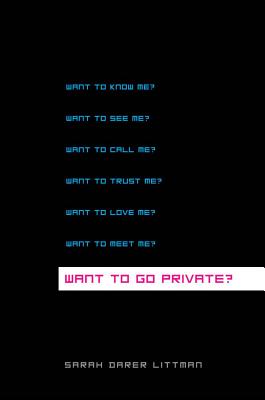 $19.79
Not currently available - email or call for details
Description
---
Abby and Luke chat online. They've never met. But they are going to. Soon.
Abby is starting high school--it should be exciting, so why doesn't she care? Everyone tells her to "make an effort," but why can't she just be herself? Abby quickly feels like she's losing a grip on her once-happy life. The only thing she cares about anymore is talking to Luke, a guy she met online, who understands. It feels dangerous and yet good to chat with Luke--he is her secret, and she's his. Then Luke asks her to meet him, and she does. But Luke isn't who he says he is. When Abby goes missing, everyone is left to put together the pieces. If they don't, they'll never see Abby again.
About the Author
---
Sarah Darer Littman is the critically acclaimed author of Backlash; Want to Go Private?; Anything But Okay; In Case You Missed It; Life, After; and Purge. She is also an award-winning news columnist and teaches writing at Western Connecticut State University and with the Yale Writers' Conference. Sarah lives in Connecticut with her family, in a house that never seems to have enough bookshelves. You can visit her online at sarahdarerlittman.com.
Praise For…
---
Praise for Sarah Darer Littman
Backlash
"Littman pens a raw, frighteningly realistic, and absorbing look at cyberbullying and the damaging effects of airing private trauma in a public forum." -Publishers Weekly
"[T]his is a powerful and credible story" -Booklist

Want to Go Private?
"A bold investigation of potentially lethal, if common, mixture for teen girls: emotionally immaturity, technology and emerging sexuality." -Los Angeles Times
"This book is a compelling, if not disturbing, read." - School Library Journal

Life, After
"Convincing and absorbing." -Publishers Weekly
"Littman catches the voice of teen readers with her spot-on dialogue and realistic situations." -The Jewish Journal

Purge
"An intimate and powerful novel." -The Stamford Times
"With an underlying but not heavy-hand message, this may start a few conversations." -Kirkus Reviews