El Capitán Calzoncillos y la ridícula historia de los seres del inodoro morado (Captain Underpants #8) (Paperback)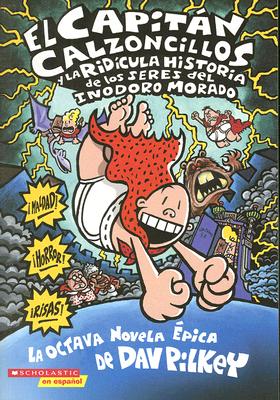 $5.99
Not currently available - email or call for details
Description
---
THE WAIT IS OVER!!! Dav Pilkey's beloved Captain Underpants returns to face his nemesis--the evil Captain Blunderpants--with the help of two new superheroes, Great-Granny Girdle and Boxer Boy!¿Se han vuelto Jorge y Berto completamente locos? Su Inodoro Morado los ha llevado a un lugar extrañísimo donde los maestros son amables, la comida de la cafetería es deliciosa y el director, el Sr. Carrasquilla, piensa que ellos son realmente graciosos. Algo está muy, pero muy mal... y se pone peor cuando los mellizos malvados que se parecen a Jorge y Berto secuestran a su pterodáctilo mascota, Galletas, y a Chuli, el hámster biónico. Ahora Jorge y Berto deben enfrentar a los enemigos más listos que hayan tenido jamás: ¡ellos mismos! Un nuevo reto para el increíble Capitán Calzoncillos.
About the Author
---
When Dav Pilkey was a kid, he was diagnosed with ADHD and dyslexia. Dav was so disruptive in class that his teachers made him sit out in the hallway every day. Luckily, Dav loved to draw and make up stories. He spent his time in the hallway creating his own original comic books -- the very first adventures of Dog Man and Captain Underpants.
In the second grade, Dav's teacher ripped up his comics and told him he couldn't spend the rest of his life making silly books.
Fortunately, Dav was not a very good listener.