Musical Revolutions: How the Sounds of the Western World Changed (Hardcover)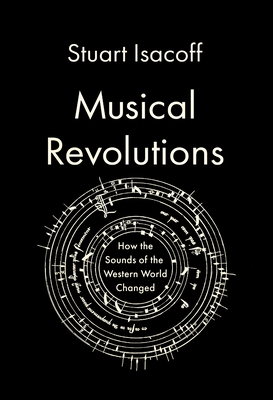 $35.00

Usually arrives at our store in 5-14 business days.
Description
---
From the critically acclaimed author of Temperament, a narrative account of the most defining moments in musical history—classical and jazz—all of which forever altered Western culture

"A fascinating journey that begins with the origins of musical notation and travels through the centuries reaching all the way to our time."—Semyon Bychkov, chief conductor and music director of the Czech Philharmonic

The invention of music notation by a skittish Italian monk in the eleventh century. The introduction of multilayered hymns in the Middle Ages. The birth of opera in a Venice rebelling against the church's pious restraints. Baroque, Romantic, and atonal music; bebop and cool jazz; Bach and Liszt; Miles Davis and John Coltrane. In telling the exciting story of Western music's evolution, Stuart Isacoff explains how music became entangled in politics, culture, and economics, giving rise to new eruptions at every turn, from the early church's attempts to bind its followers by teaching them to sing in unison to the global spread of American jazz through the Black platoons of the First World War.

The author investigates questions like: When does noise become music? How do musical tones reflect the natural laws of the universe? Why did discord become the primary sound of modernity? Musical Revolutions is a book replete with the stories of our most renowned musical artists, including notable achievements of people of color and women, whose paths to success were the most difficult.
About the Author
---
STUART ISACOFF is a pianist, writer, and the founder of Piano Today magazine, which he edited for nearly three decades. A winner of the ASCAP Deems Taylor Award for excellence in writing about music, he is a regular contributor to The Wall Street Journal and many other leading publications. He is also the author of Temperament: How Music Became a Battleground for the Great Minds of Western Civilization, A Natural History of the Piano, and When the World Stopped to Listen. He lives in Closter, New Jersey.
Praise For…
---
"A pianist and composer who performs, writes and lectures on music, Isacoff delves deep into history to discuss the innovations in Western music that we take for granted today. . . . Musical Revolutions covers a staggering amount of material in under 300 pages. It is illustrated with wonderful photographs."—Martha Anne Toll, The Washington Post

"This history traverses immense territory, drawing unexpected connections between artists. . . . The spirit of revolution reverberates most potently in an almost novelistic account of the eleventh-century monk Guido D'Arezzo's crusade to standardize music notation. Isacoff's descriptions frequently help us see anew things we might take for granted."—The New Yorker

"Brilliantly covered . . . Proceeding from the advent of notation systems, Isacoff magnificently connects future innovations in music to developments in history, literature, and the arts. . . . Musical Revolutions is enchanting and enlightening, an inspiring chronicle of the sounds that reflect the creativity, artistry, and 'revolutionary spirit' of humanity."—George Kendall, Booklist (starred review)

"Erudite . . . Informative and often astute essays . . . Isacoff's encyclopedic knowledge of music is still very much in evidence. The book is an excellent choice for readers who want a quick survey of Western music's major developments, and it's filled with memorable tidbits."—Kirkus Reviews

"Much like Isacoff's previous books, this is a sprawling narrative, intertwining history, politics, and musical biography, that's as entertaining as it is informative. Whether readers are dedicated musicologists or casual fans, they'll enjoy this thought-provoking dive into the history of Western music."—Joshua Finnell, Library Journal (starred review)

"Vaulting from the birth of opera to the explosion of jazz and bebop to the latter-day tumult of Chinese interpreters, gender liberation, and beyond, Isacoff leads readers on a whirlwind tour that elucidates recurring artistic motifs in a way previously unveiled. That he does so in narrative prose that resonates equally with professionals and amateurs is credit to his literary virtuosity."—Sara Davis Buechner, Musical America

 "These being revolutions, Isacoff naturally has some enthralling stories to tell."—Dave Mandl, The Wire

"You owe it to yourself to read this book, even if a lot of these works and musicians are unfamiliar to you! You can't possibly not learn something you didn't already know."—Marvin J. Ward, CVNC

"Stuart Isacoff's Musical Revolutions is an astonishing portrayal of how music has evolved into what it is today. His writing takes us on a fascinating journey that begins with the origins of musical notation and travels through the centuries reaching all the way to our time, revealing the politico-cultural context that made revolutions in music inevitable."—Semyon Bychkov, chief conductor and music director of the Czech Philharmonic

"Great music is always revolutionary in that it 'turns' us—inside out, back-to-front, drawing us outside the circle of our mundane lives. This fascinating book, rich in detail and insight, takes the reader on a journey through Western music history, guided by the explosive moments which have forged and illuminated music's developing paths."—Stephen Hough, pianist and author of Rough Ideas

"Musical Revolutions is an amazing achievement: a beautiful, human, entertaining and informative testament to how vital music has been and continues to be as our most intimate and mysterious way of expression."—Gabriela Montero, pianist and composer

"Stuart Isacoff is a subtle jazz pianist who also is one of our finest writers on music—with the entire range of Western music in his ears. Musical Revolutions is an inspired idea, brilliantly carried through in prose of worldly erudition."—David Dubal, author of Reflections from the Keyboard

"Musical Revolutions is brimming with singular perception, passion, and intellect. Stuart Isacoff's writing tells a story with the sense of drama of a fine playwright, and his unique narrative is brilliantly alive with perceptive quotes and insights of the writers, thinkers, historians, artists, and musicians who lived innovation and breakthrough in real time."—Bill Charlap, jazz pianist

"Musical Revolutions takes us on a whirlwind tour through the seismic shifts and high points of the expansive albeit evolving worlds of Western classical music and jazz. Isacoff's insightful storytelling provides the cultural context and invaluable details which place the reader smack in the middle of the narrative."—Michael Harrison, composer and pianist