When Truth Is All You Have: A Memoir of Faith, Justice, and Freedom for the Wrongly Convicted (Paperback)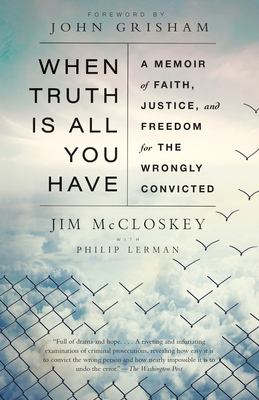 $17.00

Usually arrives at our store in 2-8 business days.
Description
---
"A riveting and infuriating examination of criminal prosecutions, revealing how easy it is to convict the wrong person and how nearly impossible it is to undo the error." --Washington Post No one has illuminated this problem more thoughtfully and persistently. --Bryan Stevenson, author of Just Mercy Jim McCloskey was at a midlife crossroads when he met the man who would change his life. A former management consultant, McCloskey had grown disenchanted with the business world; he enrolled at Princeton Theological Seminary at the age of 37. His first assignment, in 1980, was as a chaplain at Trenton State Prison. Among the inmates was Jorge de los Santos, a heroin addict who'd been convicted of murder years earlier. He swore to McCloskey that he was innocent--and, over time, McCloskey came to believe him. With no legal or investigative training to speak of, McCloskey threw himself into the case. Two years later, thanks to those efforts, Jorge de los Santos walked free, fully exonerated. McCloskey had found his calling. He established Centurion Ministries, the first group in America devoted to overturning wrongful convictions. Together with his staff and a team of forensic experts, lawyers, and volunteers--through tireless investigation and an unflagging dedication to justice--Centurion has freed 65 innocent prisoners who had been sentenced to life or death. When Truth Is All You Have is McCloskey's inspirational story, as well as those of the unjustly imprisoned for whom he has fought. Spanning the nation, it is a chronicle of faith and doubt; of triumphant success and shattering failure. It candidly exposes a life of searching and struggle, uplifted by McCloskey's certainty that he had found what he was put on earth to do. Filled with generosity, humor, and compassion, it is the soul-bearing account of a man who has redeemed innumerable lives--and incited a movement--with nothing more than his unshakeable belief in the truth.
About the Author
---
JIM McCLOSKEY is the founder of Centurion Ministries. He served in the U.S. Navy, patrolling rivers in the Mekong Delta of Vietnam, and spent twelve years in international consulting. He has a Masters of Divinity from Princeton Theological Seminary. Today McCloskey is retired from active oversight of Centurion, though he continues to serve on the board and pursue cases. PHILIP LERMAN has been the national editor of USA Today, co-producer of America's Most Wanted, and executive producer of PBS's Made in Spain. He is the author of Dadditude and co-author of numerous nonfiction books.