Late String Quartets and the Grosse Fuge, Opp. 127, 130-133, 135 (Paperback)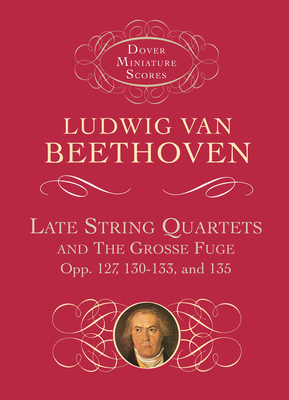 $12.95

Usually arrives at our store in 5-14 business days.
Description
---
Beethoven's last string quartets are universally regarded as supreme, transcendent works -- among the greatest and most intimate music in chamber literature. Composed in the last years of the master's life -- from 1823 to 1827 -- these quartets contain astonishing experiments in thematic development and musical form that laid the foundation for innovations in 20th-century string quartet writing, especially in the important works of Bart k and Shostakovich.
This volume, reprinted from the definitive Breitkopf & H rtel edition, includes the following string quartets: No. 12 in E-flat, Op, 127; No. 13 in B-flat, Op. 130; No. 14 in C-sharp Minor, Op. 131; No. 15 in A Minor, Op. 132; No. 16 in F, Op. 135: and the Grosse Fugue in B-flat, Op. 133.
The quartets are published here with bar-numbered movements and ample margins at the bottom of each score page for notes and analysis. This convenient, affordable volume is the ideal edition for study in the classroom, at home or in the concert hall.
About the Author
---
The genius of Ludwig van Beethoven (1770-1827) casts a long shadow over classical music -- no other composer of the past two centuries has exercised a more profound influence. A product of the Classicist generation, he was the first of the Romantics, and his works remain undiminished in their powers of enchantment.