The Jungle (Mass Market)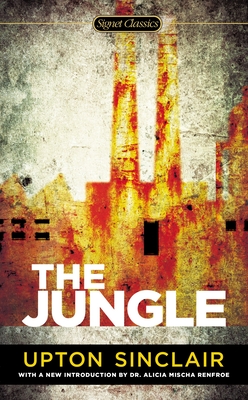 $5.95

Usually arrives at our store in 5-14 business days.
Description
---
Upton Sinclair's classic revelatory novel about turn-of-the-century business and immigrant labor practices.

Jurgis Rudkus, a young Lithuanian immigrant in search of a better life, faces instead an epic struggle for survival. His story of factory life in Chicago in the early twentieth century is a saga of barbarous working conditions, crushing poverty, crime, disease, and despair.

Upton Sinclair's vivid depiction of the horrors of Chicago's stockyards and slaughterhouses aroused such public indignation that a government investigation was called, eventually resulting in the passage of pure food laws. More than a hundred years later, The Jungle continues to pack the same emotional power it did when it was first published.

Includes an Introduction by Alicia Mischa Renfroe
and an Afterword by Dr. Barry Sears
About the Author
---
Upton Sinclair (1878–1968) was born in Baltimore and began writing dime novels to pay his way through the College of the City of New York. While doing graduate work at Columbia University, he wrote six novels, including King Midas (1901), The Journal of Arthur Stirling (1903), and Manassas (1904). His masterwork, The Jungle (1906), aided the passage of pure food laws and won him wide acclaim. Active throughout his life in socialist causes, he invested the money he made from The Jungle in a Utopian experiment, the Helicon Hall Colony in Englewood, New Jersey. In 1915, he moved to California, where he ran unsuccessfully for public office and waged an antipoverty campaign. Among his later works was Dragon's Teeth (1942), for which he won a Pulitzer Prize.
Praise For…
---
"When people ask me what has happened in my long lifetime I do not refer them to the newspaper files and to the authorities, but to [Sinclair's] novels."—George Bernard Shaw