El Capitán Calzoncillos y el ataque de los inodoros parlantes (Captain Underpants #2) (Paperback)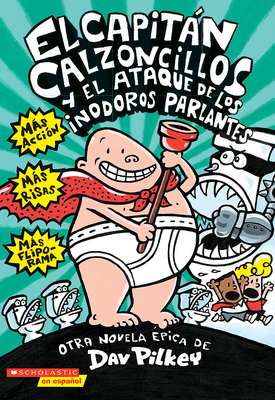 $7.99
Not currently available - email or call for details
Description
---
Just when you thought it was safe to go back in the classroom... Captain Underpants returns in Spanish! He's big, he's bulky, and he's badder that ever! Get ready for the amazing Captain Underpants.¡Otro libro divertidísimo del Capitán Calzoncillos! Jorge y Berto están nuevamente metidos en un lío. Primero, destrozan la convención de ciencias de la escuela con sus bromitas. Luego, por accidente, crean una armada de malvados inodoros parlantes que tratan de conquistar el mundo. ¿Quién podrá detener a las diabólicas tazas carnívoras? ¡Esto parece una misión a la medida del Capitán Calzoncillos!
About the Author
---
When Dav Pilkey was a kid, he was diagnosed with ADHD and dyslexia. Dav was so disruptive in class that his teachers made him sit out in the hallway every day. Luckily, Dav loved to draw and make up stories. He spent his time in the hallway creating his own original comic books -- the very first adventures of Dog Man and Captain Underpants.
In the second grade, Dav's teacher ripped up his comics and told him he couldn't spend the rest of his life making silly books.
Fortunately, Dav was not a very good listener.