The Spanish-American War and Philippine Insurrection, 1898-1902: An Annotated Bibliography (Routledge Research Guides to American Military Studies) (Hardcover)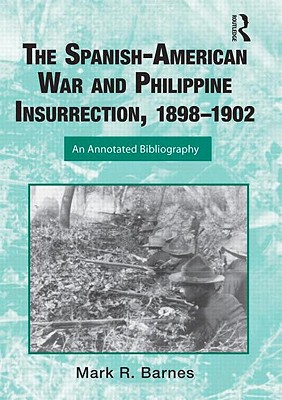 Description
---
An often overshadowed event in American military history, the Spanish-American War began as a humanitarian effort on the part of the United States to provide military assistance for the liberation of Cuba from Spanish domination. At the time, no one knew that this simple premise would result in an American empire.
Through extensive research, Mark Barnes has created a comprehensive, annotated bibliography detailing this globally significant conflict and its aftermath. Insightful notes are included for every title in each chronologically organized chapter. By drawing together an impressive collection of sources, including some previously not readily available to English language readers, Barnes has created an invaluable resource for scholars of this conflict.
Routledge Research Guides to American Military Studies provide concise, annotated bibliographies to the major areas and events in American military history. With the inclusion of brief critical annotations after each entry, the student and researcher can easily assess the utility of each bibliographic source and evaluate the abundance of resources available with ease and efficiency. Comprehensive, concise, and current--Routledge Research Guides to American Military Studies are an essential research tool for any historian.
About the Author
---
Mark R. Barnes, Ph.D., is a Retired National Park Service Senior Archeologist. He served in the armed forces with the Judge Advocate General's Corps, at the West Point Military Academy Annex. Author of numerous articles and reviews, Barnes is currently an associate professor at Georgia State University teaching Historical Archaeology and Cultural Resource Management.