Carried in Our Hearts: The Gift of Adoption Inspiring Stories of Families Created Across Continents (Hardcover)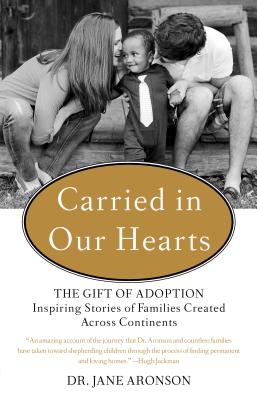 $27.25
Not currently available - email or call for details
Description
---
"My mommy didn't carry me in her tummy, she carried me in her heart." Bailey, a 5-years old who was adopted from China. Her story is included in this book.
According to "People" magazine, parents from all over the country seek adoption expert and Worldwide Orphans Foundation founder Dr. Jane Aronson's help as if consulting a master detective. Angelina Jolie praised Dr. Aronson's drive and ambition to help children dream ("Elle"). Indeed, over the course of the past three decades, Dr. Aronson has touched the lives of thousands of adopted children from around the world and in this inspiring book she presents moving first-person testimonies from parents (and a few children themselves) whose lives have been blessed by adoption.
Divided into thematic sections such as "The Decision," "The Journey," and "The Moment We Met") each prefaced by Dr. Aronson, this book introduces readers to Claude Knobler, a writer from Los Angeles whose journey to Ethiopia to adopt his son led to an unexpectedly moving encounter with the boy's courageous birthmother; actor Mary Louise-Parker whose older adopted son's bond with her newly adopted baby daughter was deep and unwavering from the instant the two children met; and Lynn Danzker, an entrepreneur who set off alone to adopt her son, Cole, and in the process, met and married her husband. The authors of these testimonies range from doctors to filmmakers, from financial consultants to celebrities all of them bound by their moving and transformative experience as adoptive parents.
About the Author
---
Dr. Jane Aronson is a pediatrician specializing in adoption medicine. She has held prestigious positions at Cornell, Columbia, Mount Sinai, and Albert Einstein College of Medicine. In 1997, her dedication to adoption medicine led her to create the Worldwide Orphans Foundation, which has developed successful programs in Bulgaria, Ethiopia, Haiti, Serbia, and Vietnam, all aimed at improving the lives of orphans in their home communities. A blogger for "The Huffington Post "and CNN.com, Dr. Aronson has been profiled in "The New Yorker," "The New York Times," "Redbook," and "Glamour," and was a 2009 "Glamour "Woman of the Year. She has been featured on "CBS Evening News "and "NBC Nightly News "and on CNN. She lives with her fmaily including adopted sons Ben and Des in Maplewood, New Jersey."
Praise For…
---
Praise for Carried in Our Hearts:   "When I first heard Dr. Jane Aronson speak, she said 'Orphans are all our children…all our responsibility.' No one I have ever met takes that responsibility more seriously than Jane. I feel blessed to call her a friend and Carried In Our Hearts is an amazing account of the journey that she and countless families have taken toward shepherding children through the process of finding permanent and loving homes."
—Hugh Jackman
 
"Mother's Day gift alert!—it's an unbelievable expression of love that will expand your idea of what a family is. Go buy it!"
—Amy Poehler

"Dr Jane Aaronson is a force of nature and one of the world's fiercest and most passionate defenders for the protection, well-being and human potential of orphaned children. For more than twenty years she has worked tirelessly to shine a light on the physical, intellectual and emotional needs of the millions of vulnerable children living in our world today, without parents or proper care, starved of love and hope, showing us that each and every one of these children's lives can be transformed when given the opportunity. Her wisdom, humanity and understanding are evidenced in the life affirming personal stories of unconditional love she has gathered in her extraordinary new book, Carried in Our Hearts."
—Susan Bissell, Chief of Child Protection, UNICEF

 "Her angle is incredibly pure and direct. It's her heart to as many hearts as she can possibly touch."
—Andrew Garfield, star of The Amazing Spider-Man

"Jane Aronson is remarkable. Smart, committed, determined, her concern for children has taken her all over the world, and her understanding of their needs is unparalleled."
— Anderson Cooper

"To adopt a child is a divine act and Jane Aronson is a true angel. With passion and lightness she has lead an amazing life changing the destinies of so many children. This book is a testimony of her generosity and her life's work!"
—Diane von Furstenberg 

"In this uplifting collection of essays, experienced adoption medicine leader Aronson (founder, Worldwide Orphans Foundation) gives hope to those choosing parenthood through adoption, confirming that the often bewildering amount of red tape, the glacial pace of applications, changing international laws, and the resulting roller-coaster ride of emotions is worth it."
—Library Journal

"There is a wealth of information—and hope—here for people looking at possibilities for international adoption, and there is certainly no better advocate on the long journey than the upbeat, passionate Aronson."
—Publishers Weekly

"Short, sweet, eye-opening thoughts on adoption and mixed-race parenthood."
—Kirkus Reviews