Pathfinders: A Global History of Exploration (Paperback)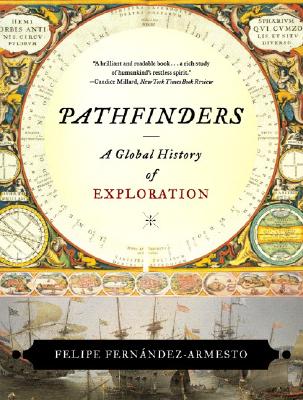 $21.95
Not currently available - email or call for details
Description
---
"A brilliant and readable book…a rich study of humankind's restless spirit." —Candice Millard, New York Times Book Review
Greeted with coast-to-coast acclaim on publication, Fernández-Armesto's ambitious history of world exploration sets a new standard. Presenting the subject for the first time on a truly global scale, Fernández-Armesto tracks the pathfinders who, over the past five millennia, lay down the routes of contact that have drawn together the farthest reaches of the world.
The Wall Street Journal calls it "impressive...a huge story [told] with gusto and panache." To the Washington Post, "Pathfinders is propelled by an Argonaut of an author, indefatigable and daring. It's a wild ride." And in a front-page review, the Seattle Times hails its "tart and elegant presentation...full of surprises. Fernández-Armesto's lively mind, pithy phrasing, and stunningly thorough and diverse knowledge are a constant pleasure."
A plenitude of illustrations and maps in color and black and white augment this rich history. In Pathfinders, winner of the 2007 World History Association Book Prize, we have a definitive treatment of a grand subject.
About the Author
---
Felipe Fernández-Armesto, the William P. Reynolds Professor of History at the University of Notre Dame, is the author of Pathfinders: A Global History of Exploration and Our America: A Hispanic History of the United States. He lives in South Bend, Indiana, and London.

Praise For…
---
An elegant survey of human exploration from prehistory to the present.

The range of reference is wide, the writing felicitous and witty…The early pages of this book capture something so lost to us now it is almost unimaginable: the awe of a vast and empty Earth of unknown wonders, perils, and possibilities.
— Ronald Wright

Readers of history will delight in Fernández-Armesto's latest. [He] deftly manages the near-impossible task of a comprehensive account of world exploration from the dawn of humankind while maintaining an interesting tone throughout.

A colorful compendium of history's risk-takers, with a welcome emphasis on non-European and non-English-speaking pathfinders.