The Crossover Graphic Novel Signed Edition (The Crossover Series) (Paperback)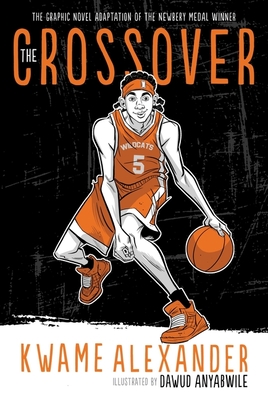 $12.99
Not currently available - email or call for details
Description
---
Kwame Alexander's New York Times bestseller and Newbery Medal–winning The Crossover is vividly brought to life as a graphic novel with stunning illustrations by star talent Dawud Anyabwile.
 
New York Times Bestseller · Newbery Medal Winner · Coretta Scott King Honor Award · 2015 YALSA Top Ten Best Fiction for Young Adults · 2015 YALSA Quick Picks for Reluctant Young Adult Readers · Publishers Weekly Best Book · School Library Journal Best Book · KirkusReviews Best Book
 
"A beautifully measured novel of life and line." —New York Times Book Review
 
The Crossover is now a graphic novel!
 
"With a bolt of lightning on my kicks . . . The court is SIZZLING. My sweat is DRIZZLING. Stop all that quivering. 'Cuz tonight I'm delivering," raps twelve-year-old Josh Bell. Thanks to their dad, he and his twin brother, Jordan, are kings on the court. But Josh has more than basketball in his blood—he's got mad beats, too, which help him find his rhythm when it's all on the line.
 
See the Bell family in a whole new light through Dawud Anyabwile's dynamic illustrations as the brothers' winning season unfolds, and the world as they know it begins to change.
About the Author
---
Kwame Alexander is a poet, educator, and the New York Times best-selling author of more than thirty-five books, including Rebound, the follow-up to his Newbery medal–winning middle grade novel, The Crossover. Some of his other works include Booked, which was longlisted for the National Book Award, The Playbook: 52 Rules to Help You Aim, Shoot, and Score in this Game of Life, Swing, and the picture books Out of Wonder and The Undefeated, which was longlisted for the National Book Award and won the Caldecott Medal, a Newbery Honor, and the Coretta Scott King Illustrator Award.
He is a regular contributor to NPR's Morning Edition, currently serving as their poet ambassador.
He lives with his family in the UK. Visit his website at www.kwamealexander.com or find him on Twitter and Instagram @kwamealexander.
Praise For…
---
? "This graphic-novel adaptation of Alexander's 2015 Newbery Medal winner offers powerful visuals to an already-cherished narrative....Veteran comics illustrator Anyabwile brings an expansive range of black-boy emotional expressiveness to the page, accompanied by a striking attention to detail and pop-cultural reference....Flashy and engaging with emotional depth—a slam-dunk thrill."—Kirkus, STARRED review ? "A fresh look at the Newbery Medal–winning book, still told in verse but now stunningly illustrated by Anyabwile....With lively poems that use basketball as a metaphor for life, this mix of free verse, hip-hop, and powerful artwork will resonate with fans of the original book and inspire a new audience of nascent players, artists, and poets."—School Library Journal, STARRED review "An energetic and lively re-envisioning, this transformation of the original text into a combination of visuals, poetry, and changing font styles will be sure to engage young readers who are both familiar and unfamiliar with Alexander's original work."—Booklist "With confident strokes and choice details...the graphic version brings out the best in the original, as any good teammate should."—Publishers Weekly "Alexander's Newbery Medal–winning verse novel of the same name (rev. 5/14), about African American twins and middle-school b-ballers Josh and JB Bell, is an ideal choice for graphic-novel adaptation, with its on-court action, swagger­ing narrative voice, and poignant emotional pitches. The original novel's success mingling accessible poetry with basketball, middle-school dynam­ics, and Black boyhood is reinforced by Anyabwile's impressive visual interpreta­tion. " —The Horn Book
— No Source