Crave the Night: A Midnight Breed Novel (Mass Market)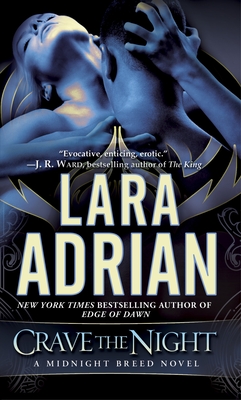 $8.99
Not currently available - email or call for details
Other Books in Series
This is book number 12 in the Midnight Breed series.
Description
---
With the acclaimed Midnight Breed series, New York Times bestselling author Lara Adrian has written thrilling novels of electrifying romance and heart-pounding suspense—page-turners in which humans and vampires live tenuously side by side. In Crave the Night, Adrian brings the Breed and its world to the brink of war, where even the deepest passion can shatter into violence.
 
Born and raised to be an emotionless killing machine, Nathan is one of the most lethal Breed vampires in existence. A key member of the Order—an elite group of warriors charged with protecting both mortals and vampires—Nathan executes each mission with flawless precision and a total lack of mercy. Now he must pursue a powerful, hidden enemy. But Nathan's hard discipline and training are no match for the fierce pull he feels toward a young woman he has no right to desire—a woman of wealth and high social standing who has long been promised to another Breed male, and who may also prove to be the key to rooting out Nathan's elusive quarry.
 
Jordana lives a life of glittering privilege as a member of a prominent Breed family in Boston. Surrounded by fine things and fawning admirers, Jordana wants for nothing—until she crosses paths with a dark, intense warrior from the Order and finds herself swept into an impulsive, sizzling kiss that neither of them will forget. As much as she tries to deny her deep feelings for Nathan, Jordana cannot resist the craving to be near him, to break through his forbidding walls and see the man he truly is. But getting close to Nathan will thrust Jordana into a treacherous new world, forcing her to risk all she has and all she knows about herself and her past. And loving this seductive man could be the most dangerous temptation of all.

Praise for Crave the Night
 
"[A] thrilling and romantic read."—RT Book Reviews
 
"Stunning in its flawless execution . . . The sexual tension between Nathan and Jordana is off the charts and sizzles each of the pages."—Under the Covers
 
"Impossible to put down."—Fresh Fiction
 
"Steamy and intense."—Publishers Weekly
About the Author
---
Lara Adrian is the New York Times bestselling author of the Midnight Breed series, including the novels Kiss of Midnight, Kiss of Crimson, Midnight Awakening, Midnight Rising, Veil of Midnight, Ashes of Midnight, Shades of Midnight, Taken by Midnight, Deeper than Midnight, Darker After Midnight, Edge of Dawn, Crave the Night, and the eBook novella A Taste of Midnight.
Praise For…
---
"The adventure continues in the twelfth Midnight Breed novel from prolific and talented [Lara] Adrian. This time it's Nathan, a first generation Breed vampire who was raised as an emotionless hunter, who takes center stage. In the previous book, the revelation of a new enemy turned the world of the Breeds and humans upside down, forging new alliances. Although polar opposites, the fire that sparks between Nathan and privileged Jordana Gates is not to be denied—ensuring readers are in for one thrilling and romantic read!"—RT Book Reviews
 
"Nothing beats good writing and that is what ultimately makes Lara Adrian stand out amongst her peers. . . . Adrian doesn't hold back with the intensity or the passion. The sexual tension between Nathan and Jordana is off the charts and sizzles each of the pages. While slow-burning in intensity at the beginning, Adrian really shows off her writing skill in a series of twists that will surely make reader's head spin. . . . Crave the Night is stunning in its flawless execution. Lara Adrian has the rare ability to lure readers right into her books, taking them on a ride they will never forget."—Under the Covers
 
"Impossible to put down."—Fresh Fiction

"Adrian's steamy and intense twelfth Midnight Breed vampire romance adds new dimensions and new conflicts to her near-future world. . . . This installment is sure to delight established fans and will also be accessible to new readers."—Publishers Weekly
 
"Every time I open a new Midnight Breed book I am instantly sucked back in to this world and held captive until the last page. . . . Crave the Night is another action-packed, well-written love story from one of the leading authors of paranormal romance. This series shows no signs of slowing down and I think fans will be delighted with the newest addition."—Fiction Vixen
 
"Crave the Night is full of action, suspense and of course Lara Adrian's signature sexual tension."—The Book Nympho