The Memory Book: The Classic Guide to Improving Your Memory at Work, at School, and at Play (Paperback)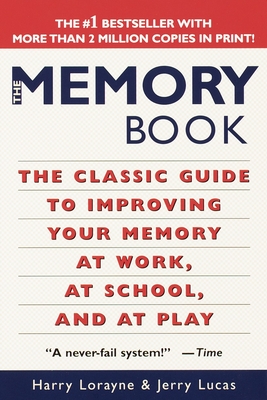 $17.00
Usually arrives at our store in 2-8 business days.
Description
---
Unleash the hidden power of your mind

It's there in all of us. A mental resource we don't think much about. Memory. And now there's a way to master its power. . . . 

Through Harry Lorayne and Jerry Lucas's simple, fail-safe memory system, you can become more effective, more imaginative, and more powerful at work, at school, in sports, and at play.

• Read with speed and greater understanding.
• File phone numbers, data, figures, and appointments right in your head.
• Send those birthday and anniversary cards on time.
• Learn foreign words and phrases with ease.
• Shine in the classroom and shorten study hours.
• Dominate social situations: Remember and use important personal details.

Begin today. The change in your life will be unforgettable
About the Author
---
Harry Lorayne is the world's foremost memory training specialist and the author of ten bestselling books, including The Memory Book, coauthored with Jerry Lucas.

Jerry Lucas is the author, with Harry Lorayne, of the bestseller The Memory Book: The Classic Guide to Improving Your Memory at Work, at School, and at Play.