Fifty Miles from Tomorrow: A Memoir of Alaska and the Real People (Paperback)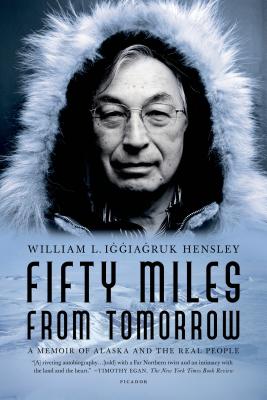 $19.00
Not currently available - email or call for details
Description
---
A NEW YORK TIMES BOOK REVIEW EDITORS' CHOICE

An alternately charming and harrowing account of over 50 years of one remarkable native Alaskan's life – from living off the land north of the Arctic Circle, to the Alaskan senate, Hensely is a huge hero to his community.

Born twenty-nine miles north of the arctic circle, William L. Iggiagruk Hensley was raised to live the seminomadic life that his Iñupiaq ancestors had lived for thousands of years. In this stirring memoir, he offers us a rare firsthand account of growing up Native Alaskan, and later, in the lower forty-eight, as a fearless advocate for Native land rights. In 1971, after years of tirelessly lobbying the United States government, he played a key role in a landmark victory that enabled the Inupiaq to take charge of their economic and political destiny. Fifty Miles from Tomorrow is "a joyous celebration of Hensley's life among the Iñupiaq people and of fighting for their rights" (Library Journal).
About the Author
---
William L. Iggiagruk Hensley, author of Fifty Miles from Tomorrow, was a founder of the Northwest Alaska Native Association and spent twenty years working for its successor, the Iñuit-owned NANA Regional Corporation. He also helped establish the Alaska Federation of Natives in 1966 and has served as its director, executive director, president, and co-chair. He spent ten years in the Alaska state legislature as a representative and senator, and recently retired from his position in Washington, D.C., as manager of federal government relations for Alyeska Pipeline Service Company. Hensley and his wife, Abigale, live in Anchorage, where—now an Iñupiat elder—he is the chair of the First Alaskans Institute.
Praise For…
---
"[A] riveting autobiography. . . told here with a Far Northern twist and an intimacy with the land and the heart." —Timothy Egan, The New York Times Book Review

"Hensley's life has followed a remarkable and inspiring arc. . . . This book is his chance to celebrate and strengthen the spirit of his own people." —Jeff Baker, The Oregonian

"Illuminating . . . an entertaining and affecting portrait of a man and his extraordinary milieu." —The Washington Post

"Mr. Hensley's account of what it's like to grow up in the far north, fifty miles from the International Date Line, is rarely less than gripping." —Dwight Garner, The New York Times

"On one level, this strongly written and evocative book is the story of a man, his people--the Iñupiat, or 'the real people'--and their world and culture. On another, it's the story of the politics of land use and energy development." —The Washington Times

"A compelling tale of doing what had to be done and recognizing the spiritual depth and profound love it takes to become a real person in Alaska, or anywhere else." —Bookforum

"An enlightening, affirmative look at Inuit culture and history by a devoted champion." —Kirkus Reviews

"Although this fascinating memoir is set hundreds of miles from where most Americans have ever dared to travel, Hensley brings to life this 'little-known part of America' through myriad tales of toil, triumph and the Inupiat Ilitqusiat--the Inupiat spirit. . . . Through his entire adult life, Hensley's mission has been simple: to ensure the Inupiat are allowed to keep their rights and their land. There are rich details of hunting adventures and typical childhood struggles, but the deep-rooted values and strength of the Inupiat people are what make this work truly sing." —Publishers Weekly, Pick of the week