You Were Made for This Moment Study Guide Plus Streaming Video: How the Story of Esther Inspires Us to Step Up and Stand Out for God (Paperback)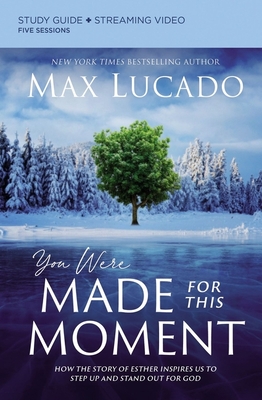 $19.99

Usually arrives at our store in 5-14 business days.
Description
---
Join Max Lucado on a journey through the book of Esther as he reminds us that God need not be loud to be strong, he need not cast a shadow to be present...and he is active even when he appears distant.
This study was born in a hard season--a pandemic that locked down the world. Church doors closed. Students were stuck at home. Masks hid smiles. And as if this weren't enough, the ancient sin of racism and hatred seems to be trying to undo us. Many of us are left wondering if this season will ever pass.
To all these things, God has a six-letter word of encouragement: E-S-T-H-E-R. The book that bears her name was written to be read in hard seasons. It was crafted for those who feel outnumbered by foes, outmaneuvered by fate, and outdone by fear.
In the You Were Made for This Moment five-session video Bible study (streaming included), pastor and New York Times bestselling author Max Lucado presents the story of Esther in all its drama, urgency, and hope.
This study guide has everything you need for a full Bible study experience, including:
The study guide itself--with discussion and personal reflection questions, video notes, and a leader's guide.
An individual access code to stream all five video sessions online (you don't need to buy a DVD ).
Esther's is a story that reaches out of the past to our present circumstances with a singular message: God is present, and he will act. It's a story that demands from us a singular response: what will we do when he does?
Sessions and video run times:
Cozy in the Culture - Esther 1:1-2:18 (17:30)
A Moment of Decision - Esther 2:19-4:14 (17:00)
Heaven Set in Motion - Esther 4:15-6:14 (16:30)
The God of Great Turnarounds - Esther 7:1-8:17 (17:30)
Remembering God's Faithfulness - Esther 9:1-10:3 (16:00)
Watch on any device
Streaming video access code included. Access code subject to expiration after 12/31/2026. Code may be redeemed only by the recipient of this package. Code may not be transferred or sold separately from this package. Internet connection required. Eligible only on retail purchases inside the United States. Void where prohibited, taxed, or restricted by law. Additional offer details inside.