1 and 2 Timothy and Titus: The Way to Live and Lead for Christ (Paperback)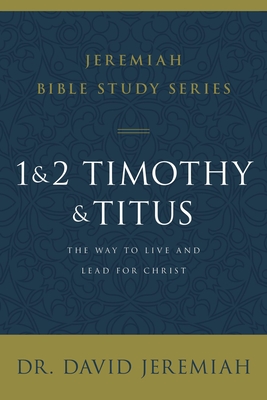 $12.99

Usually arrives at our store in 5-14 business days.
Description
---
Living by and for the Gospel...
Follow Dr. Jeremiah through the letters of 1 and 2 Timothy and Titus in a chapter-by-chapter study that will help you understand what it meant to the people at the time it was written, and what it means to Christians today.
The apostle Paul founded many churches in the Roman Empire, but it is clear he did not do this work alone. Rather, he relied on trusted companions such as Timothy and Titus to support the ongoing work in these communities.
As Paul neared the end of his life, he wrote personal letters to these men to encourage them in their ministry and provide final guidelines for how live and lead for Christ. In particular, we find him urging these men to maintain purity in the church, faithfully endure for the gospel, preach sound doctrine, pursue godliness, and maintain order as they built up other leaders. Paul's words compel believers today to also pursue their calling in the church . . . even when that means dealing with hardheaded and unruly fellow believers
Each of this study's twelve lessons is clearly organized to include:
Getting Started: An opening question to introduce you to the lesson.
Setting the Stage: A short reflection to explain the context of the study.
Exploring the Text: The Scripture reading for the lesson with related study questions.
Reviewing the Story: Questions to help you identify key points in the reading.
Applying the Message: Questions to help you apply the key ideas to their lives.
Reflecting on the Meaning: A closing reflection on the key teachings in the lesson.
--ABOUT THE SERIES--
The Jeremiah Bible Study Series captures Dr. David Jeremiah's forty-plus years of commitment in teaching the Word of God. In each study, you'll gain insights into the text, identify key stories and themes, and be challenged to apply the truths you uncover to your life. By the end of each study, you'll come away with a clear and memorable understanding of that Bible book.
Each study also contains a Leader's Guide.