In a Different Key: The Story of Autism (Paperback)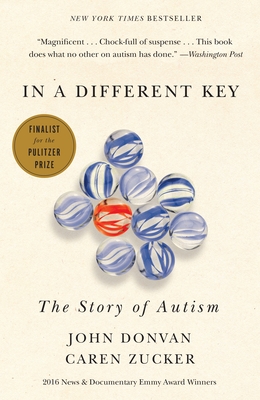 List Price: $20.00
Our Price: $19.00
(Save: $1.00 5%)
Description
---
PULITZER PRIZE FINALIST • NEW YORK TIMES BESTSELLER • "Sweeping in scope but with intimate personal stories, this is a deeply moving book about the history, science, and human drama of autism."—Walter Isaacson, #1 New York Times bestselling author of The Code Breaker
 
"Remarkable . . . A riveting tale about how a seemingly rare childhood disorder became a salient fixture in our cultural landscape."—The Wall Street Journal (Ten Best Nonfiction Books of the Year)

The inspiration for the PBS documentary, In a Different Key
 
In 1938, Donald Triplett of Forest, Mississippi, became the first child diagnosed with autism. Beginning with his family's odyssey, In a Different Key tells the extraordinary story of this often misunderstood condition, from the civil rights battles waged by the families of those who have it to the fierce debates among scientists over how to define and treat it. 
 
Unfolding over decades, In a Different Key is a beautifully rendered history of people determined to secure a place in the world for those with autism—by liberating children from dank institutions, campaigning for their right to go to school, challenging expert opinion on what it means to have autism, and persuading society to accept those who are different. 
 
This is also a story of fierce controversies—from the question of whether there is truly an autism "epidemic," and whether vaccines played a part in it; to scandals involving "facilitated communication," one of many unsuccessful treatments; to stark disagreements about whether scientists should pursue a cure for autism; to compelling evidence that Hans Asperger, discoverer of the syndrome named after him, participated in the Nazi program that consigned disabled children to death.

By turns intimate and panoramic, In a Different Key takes us on a journey from an era when families were shamed and children were condemned to institutions to one in which a cadre of people with autism push not simply for inclusion, but for a new understanding of autism: as difference rather than disability.
About the Author
---
John Donvan is a correspondent for ABC News, and host and moderator of the Intelligence Squared U.S. Debates, which are heard on public radio and by podcast. During his journalism career, in addition to anchoring such broadcasts as ABC's Nightline, John served as chief White House correspondent, and held multiyear postings in London, Moscow, Jerusalem, and Amman, Jordan. He is the winner of three Emmys and the Overseas Press Club Award. He became interested in autism's impact on families upon meeting his wife, the physician and medical school professor Ranit Mishori, who grew up in Israel with a brother profoundly affected by autism. John also performs as a live storyteller with the group Story District. He has two children and lives in Washington, DC. 
 
Caren Zucker is a journalist and television producer who has reported on a broad range of subjects both domestically and internationally. As a producer for ABC's World News and Nightline, working alongside Peter Jennings, Charlie Gibson, and Diane Sawyer, she covered economic summits, presidential campaigns, social trends, and the Olympic Games. Emmy-nominated, she was honored for her part in ABC's coverage of 9/11 with two of television's most prestigious prizes, the Peabody and the Alfred L. DuPont awards. Her oldest son Mickey's autism diagnosis inspired a new direction in her reporting: to bring a better understanding of autism's realities. Zucker and her husband, NBC Sports senior producer John McGuinness, have three children and reside in New Jersey.
Praise For…
---
"Magnificent . . . Chock-full of suspense . . . This book does what no other on autism has done."—The Washington Post (Best Books of the Year)
 
"Donvan and Zucker sensitively and accurately portray the emergence of understanding of this thing we now call autism, a story that goes back hundreds of years. They make a compelling case for autistic traits—gift and disability alike—being part of the human condition. In the words of child psychiatry pioneer Leo Kanner, autism was 'always there,' even before the diagnosis was invented."—John Elder Robison, New York Times bestselling author of Look Me in the Eye
 
"The prose is vivid, the tempo rapid and the perspective intimate, as if . . . filmed with a hand-held camera."—Jerome Groopman, The New York Times Book Review
 
"The book probes a difficult subject with intelligence and compassion. . . . The complete absence of hysteria will make it essential reading for many. . . . Its insights and quiet wisdom demand our attention, and gratitude."—Amy Bloom, Oprah Daily
 
"Fascinating . . .  [In a Different Key] takes an accessible approach that sheds much light on this human condition . . . through the human stories of those raising autistic children, of those trying to treat, study and research it and those who are autistic."—Seattle Times

"A fascinating and comprehensive history . . . In a Different Key shares the often debilitating aspects of autism yet shows how those with autism can and do flourish with the right supports and environments, and how their lives, and the lives of their families, are filled with joys and triumphs and fun and irreverence, too."—Chicago Tribune

"In a Different Key is a story about autism as it has passed through largely American institutions, shaped not only by psychiatrists and psychologists but by parents, schools, politicians, and lawyers. It shows how, in turn, the condition acquired a powerful capacity both to change those institutions and to challenge our notions of what is pathological and what is normal."—Steven Shapin, The New Yorker
 
"A fascinating history of this confounding condition."—People
 
"Donvan and Zucker's generous yet sharp-eyed portraits of men, women, and children—most of them unknown until now—make it stunningly clear that we all have a stake in the story of autism. We come to understand that we are all wired differently, and that how we treat those who are different than most is a telling measure of who we truly are. This is the kind of history that not only informs but enlarges the spirit."—Susan Cain, #1 New York Times bestselling author of Bittersweet and Quiet