Gabriele D'Annunzio: Poet, Seducer, and Preacher of War (Paperback)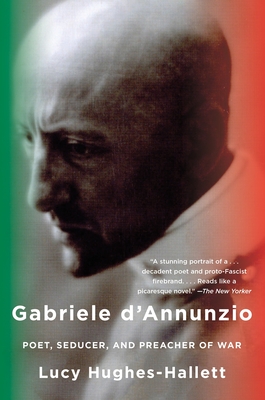 $24.20
Usually arrives at our store in 2-8 business days.
Description
---
Winner of the Samuel Johnson Prize for Nonfiction
Winner of the Costa Biography Award
**Washington Post Best Books of 2013**
**Economist Best Books of 2013**

This fascinating life of Gabriele d'Annunzio—the charismatic poet, bon vivant, and virulent nationalist who prefigured Mussolini—traces the early twentieth century's trajectory from Romantic idealism to Fascist thuggery.
 
D'Annunzio was Italy's premier poet at a time when poetry could trigger riots. A brilliant self-publicist, he used his fame to sell his work, seduce women, and promote his extreme nationalism. At once an aesthete and a militarist, he enjoyed risking death no less than making love, and he wrote with equal enthusiasm about Fortuny gowns and torpedoes. In 1915 his incendiary oratory helped drive Italy into the First World War, and in 1919 he led a troop of mutineers into the Croatian port of Fiume, where he established a delinquent utopia. Futurists, anarchists, communists and proto-fascists descended on the place, along with literati and thrill-seekers, drug dealers and prostitutes. Three years later, when the fascists marched on Rome, they belted out anthems they'd learned in Fiume, while Mussolini consciously modeled himself on the great poet. Lucy Hughes-Hallett's compelling biography is a revelation both of d'Annunzio's flamboyant life and of the dramatic times he helped to shape.


About the Author
---
Lucy Hughes-Hallett is an award-winning cultural historian and critic. She is the author of Heroes: A History of Hero Worship and Cleopatra: Histories, Dreams, and Distortions. She has written on books, theater, and television for most of the leading British newspapers. For five years she was the television critic for the Evening Standard and has long been a regular contributor to The Sunday Times (London) Books Section. She has judged a number of literary prizes, and she is a Fellow of the Royal Society of Literature. She lives in London.
Praise For…
---
"A stunning portrait of a . . . decadent poet and proto-Fascist firebrand. . . . Reads like a picaresque novel." —The New Yorker 
 
"A richly detailed portrait of an eminently civilized sociopath. . . . Appalling but, as Hughes-Hallett presents him, completely enthralling." —Booklist   

"Compulsively readable. . . . D'Annunzio was arguably the finest Italian writer of his time, an aesthete who made Oscar Wilde look like a bourgeois, a sexual charmer of Casanovan suavity and appetite . . . a political zealot and spellbinding orator." –The Washington Post (Best Books of 2013)

"A wonderful biography. . . . Although himself the least empathetic of men, [d'Annunzio] has attracted a biographer of rare sensibility who has set out not to condemn but to understand. The result is a magnificent and beautifully written book that makes readers feel they have really come to know d'Annunzio, his many faults, his fewer virtues, and his enormous talent for life." —New York Review of Books
 
"Deeply evocative . . . It is not easy to make sense of the life of a man who was a silk-swathed aesthete, prophetic versifier, manic aviator and martial demagogue all in one. . . . Hughes-Hallett is a strong match for her subject. . . . Her style is rich, ironic and pugnacious; she jousts willingly with him and the reader becomes a spectator of this subtle and fascinating contest." —The Economist

"Dazzling. . . . A shrewd, challenging analysis that links his sadomasochistic psyche to his pitiless ideology. The result is a resonant study of the themes of power, masculinity, violence, and desire that made D'Annunzio such a striking emblem of his age." —Publishers Weekly, starred review

"Hughes-Hallett crafts an appealing combination of genres, blending elements of biography, fiction, and cultural, social, and military history to create about as complete an image as possible of this most protean personality. . . . Readers will delight in touring the deep, tangled wood of a most astonishing life with a most engaging and learned guide." —Kirkus Reviews, starred review

 "A splendid subject for a biography . . . Hughes-Hallett dances her way through this extraordinary life in a style that is playful, punchy and generally pleasing. . . . In death, as in life, the amazing story of D'Annunzio is painted in primary colours, but with the darkest shadows." —The Observer (London)

"As gripping a page-turner as the most sensationalist novel—and infinitely more rewarding. . . . It is an amazing story [told] with the vivid narrative thrust of a novel. . . . The book is a revelation, an insight into a murky but significant segment of history." —The Telegraph (UK)

"Hugely enjoyable. . . .  Hughes-Hallett has a great talent for encapsulating an era or an attitude . . . Pleasurable and readable." —Sunday Times (London)

"A magnificent portrait of a preposterous character. . . . D'Annunzio was deplorable, brilliant, ludicrous, tragic, but above all irresistible. . . . His biographer has done him full justice." —The Mail on Sunday (London)

"Beautiful, strange, and original. . . . An extraordinarily intimate portrait. . . . If you want to understand fascism, you must start with d'Annunzio; and if you wish to understand him, then here is your book." —New Statesman (UK)

"How a rather diminutive poet, novelist and dramatist, with a compulsive urge to transgress, priapic sexual instincts, and a fascination with cruelty, blood and death came to be Italy's most celebrated man of action and a precursor of Fascism is the subject of Lucy Hughes-Hallett's engrossing and superbly written biography." —Times Literary Supplement (London)

"Remarkable . . . a terrific piece of work—as audacious as it is gripping, as thorough as it is insightful and as stirring as it is shocking." —The Daily Mail (UK)