Little Resilience: The Ryerson Poetry Chap-Books (Paperback)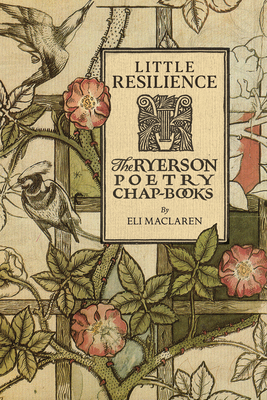 $49.34
Usually arrives at our store in 2-8 business days.
Description
---
The Ryerson Poetry Chap-Books were a landmark achievement in Canadian poetry. Edited by Lorne Pierce, the series lasted for thirty-seven years (1925-62) and comprised two hundred titles by writers from Newfoundland to British Columbia, over half of whom were women. By examining this editorial feat, Little Resilience offers a new history of Canadian poetry in the twentieth century. Eli MacLaren analyzes the formation of the series in the wake of the First World War, at a time when small presses had proliferated across the United States. Pierce's emulation of them produced a series that contributed to the historic shift in the meaning of the term "chapbook" from an antique of folk culture to a brief collection of original poetry. By retreating to the smallest of forms, Pierce managed to work against the dominant industry pattern of the day - agency publishing, or the distribution of foreign editions. Original case studies of canonical and forgotten writers push through the period's defining polarity (modernism versus romanticism) to create complex portraits of the author during the Depression, the Second World War, and the 1950s. The stories of five Ryerson poets - Nathaniel A. Benson, Anne Marriott, M. Eugenie Perry, Dorothy Livesay, and Al Purdy - reveal poetry in Canada to have been a widespread vocation and a poor one, as fragile as it was irrepressible. The Ryerson Poetry Chap-Books were an unprecedented initiative to publish Canadian poetry. Little Resilience evaluates the opportunities that the series opened for Canadian poets and the sacrifices that it demanded of them.
About the Author
---
Eli MacLaren is associate professor of English at McGill University.
Praise For…
---
"Little Resilience is exemplary as a piece of book history, and MacLaren's rigorous and gracious unfolding of even the clunkiest-seeming poems emphasizes the human hope and hard work that went into them." Literary Review of Canada

"Little Resilience offers an important contribution to our understanding of the transition from traditional to modernist poetry in Canada in the key period of 1920 to 1960. MacLaren builds on, extends, and queries the work of previous scholars, thereby helping to alter significantly our understanding of how the relationship between poetic modernism and romanticism played out in Canada." Sandra Campbell, Carleton University