Stonewall: Breaking Out in the Fight for Gay Rights (Paperback)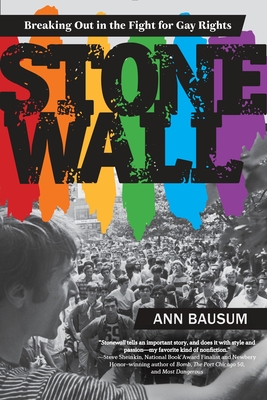 $9.99

Usually arrives at our store in 5-14 business days.
Description
---
The first history of gay rights for teen readers, written by award-winning nonfiction author Ann Bausum.

That's the Stonewall.
The Stonewall Inn.
Pay attention.
History walks through that door.

In 1969 being gay in the United States was a criminal offense. It meant living a closeted life or surviving on the fringes of society. People went to jail, lost jobs, and were disowned by their families for being gay. Most doctors considered homosexuality a mental illness. There were few safe havens. The Stonewall Inn, a Mafia-run, filthy, overpriced bar in New York City's Greenwich Village, was one of them.

Police raids on gay bars happened regularly in this era. But one hot June night, when cops pounded on the door of the Stonewall, almost nothing went as planned. Tensions were high. The crowd refused to go away. Anger and frustration boiled over.

The raid became a riot.

The riot became a catalyst.

The catalyst triggered an explosive demand for gay rights.

A riveting exploration of the Stonewall Riots and the national Gay Rights movement that followed is eye-opening, unflinching, and inspiring.
About the Author
---
Ann Bausum writes about history for readers of all ages. Stonewall is her twelfth book and her first book for Viking. Ann has written frequently about social justice history in the United States, including the fight for women's voting rights (With Courage and Cloth), the 1961 struggle for integrated interstate transportation in the South (Freedom Riders), and the Memphis, Tennessee, campaign to unionize sanitation workers that led to the death of Martin Luther King, Jr. (Marching to the Mountaintop). Among other recognitions, her books for children and teens have received a Sibert Honor, the Jane Addams Children's Book Award, the Golden Kite Award, and, on two occasions, the Carter G. Woodson Award. Ann lives in southern Wisconsin. Visit her website at www.AnnBausum.com or follow her on Facebook and Twitter.
Praise For…
---
Praise for Stonewall:

"Powerful, well-researched. . . An essential purchase" —School Library Journal, starred review 

"Readers coming of age at a time when state after state is beginning to celebrate gay marriage will be astonished to return to a time when it was a crime for a man to wear a dress. Enlightening, inspiring, and moving." —Kirkus, starred review 

"A powerful and moving account. . . Bausum's conversational storytelling whisks readers back to an era when homosexuality was criminalized" —Publishers Weekly, starred review

"Bausum writes with the precision of a journalist; there is never any doubt as to what she wonders, what she conjectures, and what she knows. The resulting narrative integrity makes her observations and her conclusions about the persecution and resilience of the LGBTQ community all the more powerful." —Horn Book, starred review

"This sobering history easily accommodates the complexity of a turning point in LGBTQ history, documenting 50 years of dramatic social change." —San Francisco Chronicle

"Comprehensive in its coverage, filled with important information, and compassionate in its tone. It sheds welcome light on a subject that deserves greater coverage in YA literature." —Booklist

"The writing is concise and clear, with a narrative style that is both compelling and passionate. . . This important book by an award-winning author is an essential purchase." —VOYA

"This illustrated history lifts Stonewall from its customary footnote or chapter status into the YA book-length treatment it deserves." —BCCB

"Stonewall tells an important story, and does it with style and passion—my favorite kind of nonfiction." —Steve Sheinkin, National Book Award Finalist and Newbery Honor-winning author of Bomb and The Port of Chicago 50 

"Do not read this book unless you want to learn about the oppression of gays and lesbians, discriminatory laws, and police who abuse their power. Do not read this book unless you want to read about the pent-up anger that ignited the Stonewall riots in the Greenwich Village neighborhood of New York City. Do not read this book unless you want to be swept away by the gay revolution that ultimately led to a strong, political cohesive community. Ann Bausum gives us a gripping account of the Stonewall riots in this authoritative narrative." —Susan Campbell Bartoletti, Sibert Medalist and Newbery Honor-winning author of Hitler Youth and Black Potatoes

"A driving beat pulses throughout Stonewall, propelling the narrative forward. Bausum masterfully grounds readers in historical context while dropping them right in the heart—and the heat—of the moment." —Tanya Lee Stone, Sibert Medalist and NAACP Image Award-winning author of Courage Has No Color

"Told with skill and humanity, this story of the Stonewall uprising and its aftermath adds an important piece to the annals of social justice history in young adult literature." —Sue Macy, award-winning author of Wheels of Change and Sally Ride: Life on a Mission

Awards and Accolades for Ann Bausum:
 
- Sibert Honor
- Jane Addams Children's Book Award
- Carter G. Woodson Award
- SCBWI Golden Kite Award
 
"A triumph on three fronts: educational, emotional, and inspirational." —Booklist, starred review of Stubby the War Dog
 
"Bausum's narrative style [is] fresh, engrossing, and at times heart-stopping" —School Library Journal, starred review of Freedom Riders
 
"Bausum. . . makes the history live as she explains, exhorts, and lets nothing drop by the wayside. . . Excellent." —Kirkus, starred review of With Courage and Cloth
 
"Bausum is one of my absolute favorite nonfiction writers, for both her politics and her impeccable prose." —The YALSA Hub on Marching to the Mountaintop