The Real Mrs. Tobias: A Novel (Hardcover)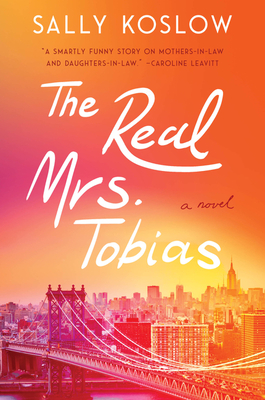 $28.99

Usually arrives at our store in 5-14 business days.
Description
---
"Sally Koslow channels Nora Ephron in this lively tale of obligation versus desire and the politics of family power. Deftly written with equal parts intelligence, pathos, and humor, The Real Mrs. Tobias is a pure pleasure to read."—Therese Anne Fowler, New York Times bestselling author of It All Comes Down to This
A sharply funny and big-hearted multi-generational story about the deeply complicated relationships between mothers- and daughters-in-law, told through three women who marry into the same family, a treat for fans of The Nest and Fleischmann Is in Trouble. 
It's 2015 in New York City, and three women all known as Mrs. Tobias—Veronika, the matriarch, her daughter-in-law Mel, and Mel's daughter-in-law Birdie—are trying to navigate personal difficulties, some of which are with one another.Veronika and Mel, despite having little in common, are both psychotherapists who are more skilled at helping other people than solving their own problems. Birdie, still dealing with the culture shock of moving to New York City and marrying into the Tobias clan, is pushed to her limit when her husband gets into trouble. No amount of badgering from his steely grandmother, smart-mouthed mother, or disillusioned wife can convince him to own up to what he's done. Overwhelmed, Birdie bolts—along with the couple's young daughter—to her Midwestern hometown, hoping that space, warmth and wisdom from her own feisty grandmother will help her find a path forward. And though Birdie begins to find comfort in unexpected places—a local bookstore and the arms of her old boyfriend—her absence stirs up long simmering troubles back home forcing the Tobiases to reconsider their relationships to each other, and ultimately, what it means to be a family.
Will the three Tobias-women-by-marriage ever find themselves—and a way back to one another? A timely look at how women hold families together.
"With a shrewd eye and a light touch, Sally Koslow weaves a story about three strong women whose memories, dreams, and desires conflict and intersect as they navigate a series of family crises. Warm, witty, and heartfelt, The Real Mrs. Tobias is a cinematic, fast-paced treat."—Christina Baker Kline, #1 New York Times bestselling author of The Exiles and Orphan Train
"With razor-sharp prose, witty humor and depth, Sally Koslow's The Real Mrs. Tobias takes us down the MIL Road . . . the one that should come with a warning. You will laugh, you will cry, you will empathize—and if you happen to be a Daughter-In-Law—you will say, Better her than me. Yet just when you think there is no way back, Koslow's page-turner will prove that while family ties can strangle, they also can keep you bound together through love, loss, secrets, and healing."—Lisa Barr, author of Woman on Fire
About the Author
---
Sally Koslow is the author of Another Side of Paradise, The Late, Lamented Molly Marx; The Widow Waltz; With Friends Like These; and the nonfiction work Slouching Toward Adulthood. Her debut novel, Little Pink Slips, was inspired by her long career as the editor in chief of the iconic magazine, McCall's. Her books have been published in a dozen countries.  
Praise For…
---
"With razor-sharp prose, witty humor and depth, Sally Koslow's The Real Mrs. Tobias takes us down the MIL Road … the one that should come with a warning. You will laugh, you will cry, you will empathize – and if you happen to be a Daughter-In-Law – you will say, Better her than me. Yet just when you think there is no way back, Koslow's page-turner will prove that while family ties can strangle, they also can keep you bound together through love, loss, secrets, and healing." — Lisa Barr, New York Times bestselling author of Woman on Fire
"Wry, knowing, and devastatingly insightful, The Real Mrs. Tobias illuminates the precarious bond between mothers-in-law and daughters-in-law. United by their love of the same men, three very different women struggle for control of their relationships and their lives in Sally Koslow's riveting novel. I nodded in agreement and laughed out loud though the whole book, and walked away with fresh insights into my life as a mother-in-law, a daughter-in-law, and a woman." — Pamela Redmond, author of Younger
"I love mother-daughter stories, so I was delighted to see Koslow's ingenious new focus on mothers and daughter-in laws! Told by three vivid women all sharing the same family name—the matriarch, her daughter-in-law and then the next daughter-in-law—this is such a profound, powerful and smartly funny story that it made me reappreciate my own mother-in-law, even as if let me live through this oh-so-important relationship through this amazing book. Deeply original, about the bonds that break—and remake female relationships, The Real Mrs. Tobias is the real deal." — Caroline Leavitt, New York Times bestselling author of With or Without You 
"With a shrewd eye and a light touch, Sally Koslow weaves a story about three strong women whose memories, dreams, and desires conflict and intersect as they navigate a series of family crises. Warm, witty, and heartfelt, The Real Mrs. Tobias is a cinematic, fast-paced treat." — Christina Baker Kline, #1 New York Times bestselling author of The Exiles and Orphan Train
"This power struggle between mothers- and daughters-in-law over how to handle a wrenching family secret is told with emotional intelligence and Koslow's signature wit. Tart and nutritious, as refreshing as a raspberry vinaigrette."
— Jenna Blum, New York Times bestselling author of The Lost Family and Woodrow on the Bench
"Sally Koslow mines the turmoil and joy of an extended family with insight, humor, and tenderness." — Hilma Wolitzer, author of Today a Woman Went Mad in the Supermarket
"Sally Koslow channels Nora Ephron in this lively tale of obligation versus desire and the politics of family power. Deftly written with equal parts intelligence, pathos, and humor, The Real Mrs. Tobias is a pure pleasure to read." — Therese Anne Fowler, New York Times bestselling author of It All Comes Down to This
"A beautiful story about imperfect relationships and the wisdom that comes from others." — Novels Alive
"An unforgettable tale written in snappy prose with lots of humor." — BookTrib
"Humorous, heartfelt." — Women's World
"Perfect for readers of Emma Straub, J. Courtney Sullivan and Elizabeth Strout, The Real Mrs. Tobias is a witty, compassionate novel about obligation, family power, complicated dynamics and, of course, the never-ending war between mothers- and daughters-in-law. It is a testament to the power of love and family, and a tongue-in-cheek romp through the moments of sheer entropy behind every beautiful family photo." — Bookreporter
"This is a book about family . . . . It will make you cringe and laugh, often at the same time . . . . A funny yet thoughtful read." — Fredericksburg Free-Lance Star