Daughters of the Occupation: A Novel of WWII (Paperback)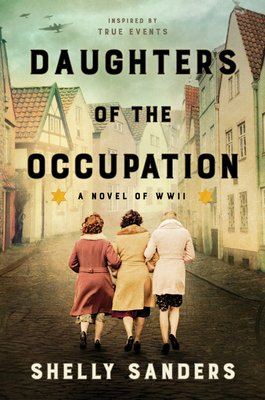 $17.99

Usually arrives at our store in 5-14 business days.
Description
---
Inspired by true events in World War II Latvia, an emotionally charged novel of sacrifice, trauma, resilience, and survival, as witnessed by three generations of women. 
On one extraordinary day in 1940, Miriam Talan's comfortable life is shattered. While she gives birth to her second child, a son she and her husband, Max, name Monya, the Soviets invade the Baltic state of Latvia and occupy the capital city of Riga, her home. Because the Talans are Jewish, the Soviets confiscate Max's business and the family's house and bank accounts, leaving them with nothing.
 Then, the Nazis arrive. They kill Max and begin to round up Jews. Fearing for her newborn son and her young daughter, Ilana, Miriam asks her loyal housekeeper to hide them and conceal their Jewish roots to keep them safe until the savagery ends.
 Three decades later, in Chicago, 24-year-old Sarah Byrne is mourning the untimely death of her mother, Ilana. Sarah's estranged grandmother, Miriam, attends the funeral, opening the door to shocking family secrets. Sarah probes Miriam for information about the past, but it is only when Miriam is in the hospital, delirious with fever, that she begs Sarah to find the son she left behind in Latvia.
 Traveling to the Soviet satellite state, Sarah begins her search with the help of Roger, a charismatic Russian-speaking professor. But as they come closer to the truth, she realizes her quest may have disastrous consequences.
 A magnificent, emotionally powerful story of family and the lingering devastation of war, The Daughters of the Occupation explores how trauma is passed down in families and illuminates the strength and grace that can be shared by generations.
About the Author
---
SHELLY SANDERS is the author of Daughters of the Occupation (Harper, 2022), a Canadian bestseller for four weeks. The novel is inspired by the discovery of her Jewish roots as an adult, and by her grandmother's family, many of whom were murdered during the Latvian Holocaust. Carol Memmott, of the Washington Post, says this "haunting novel refers not only to the victims of Latvia's Holocaust but also to their descendants, who carry the trauma of their ancestors."
Shelly is also the author of three Young Adult historical fiction novels (The Rachel Trilogy, Second Story Press); the first received a Starred Review in Booklist, and two of the three were named Notable Books for Teens from the Association of Jewish Libraries.
Follow Shelly on Twitter @shelly_sanders and on Instagram: fictionbyshellysanders
Praise For…
---
"Daughters of the Occupation is a neatly crafted saga of personal and national trauma, a story of tentative hope in a world of menace, as three generations of women strive to understand who they are, where they came from, and how they can feel free."  — Lucy Adlington, author of the New York Times Bestseller, The Dressmakers of Auschwitz
"A riveting story that will keep you turning the pages way into the night."  — Joy Fielding, author of All the Wrong Places

"A gripping historical saga that skillfully addresses the trauma of the Holocaust." — Kirkus Reviews (starred review)
"One of the most authentic and profound works of historical fiction I have ever read about World War II and the Holocaust." — BookTrib