The Return of George Washington: 1783-1789 (Large Print / Paperback)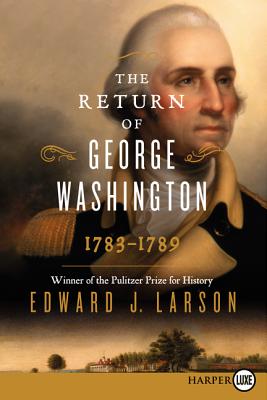 $32.99
Not currently available - email or call for details
Description
---
Pulitzer Prize-winning historian Edward J. Larson recovers a crucially important—yet almost always overlooked—chapter of George Washington's life, revealing how Washington saved the United States by coming out of retirement to lead the Constitutional Convention and serve as our first president.
After leading the Continental Army to victory in the Revolutionary War, George Washington shocked the world: he retired. In December 1783, General Washington, the most powerful man in the country, stepped down as Commander in Chief and returned to private life at Mount Vernon. Yet as Washington contentedly grew his estate, the fledgling American experiment floundered. Under the Articles of Confederation, the weak central government was unable to raise revenue to pay its debts or reach a consensus on national policy. The states bickered and grew apart. When a Constitutional Convention was established to address these problems, its chances of success were slim. Jefferson, Madison, and the other Founding Fathers realized that only one man could unite the fractious states: George Washington. Reluctant, but duty-bound, Washington rode to Philadelphia in the summer of 1787 to preside over the Convention.
Although Washington is often overlooked in most accounts of the period, this masterful new history from Pulitzer Prize-winner Edward J. Larson brilliantly uncovers Washington's vital role in shaping the Convention—and shows how it was only with Washington's support and his willingness to serve as President that the states were brought together and ratified the Constitution, thereby saving the country.
About the Author
---
EDWARD J. LARSON received the Pulitzer Prize for History for Summer for the Gods: The Scopes Trial and America's Continuing Debate over Science and Religion. He is the co-author of Modern Library's The Constitutional Convention: A Narrative History from the Notes of James Madison and author of The Return of George Washington: Uniting the States, 1783-1789, and A Magnificent Catastrophe: The Tumultuous Election of 1800. He was an inaugural fellow at the National Library for the Study of George Washington. Larson is University Professor of History and holds the Hugh & Hazel Darling Chair in Law at Pepperdine University. He travels widely as a media commentator, visiting instructor, and guest speaker.
Praise For…
---
"Illuminating. ... Profound, even affectionate, scholarship infuses every graceful sentence."
— Kirkus Reviews (starred review)

"Larson's compulsively readable history shines new light on a little-discussed period of Washington's life, illustrating his role as the indispensable American."
— Publishers Weekly

"A fascinating account. ... This is an important book, elegantly written, which adds greatly to our understanding of the way in which one man's personality and popularity helped create a strong new country out of the fragments of the old colonial system."
— Lawrence M. Friedman, Marion Rice Kirkwood Professor of Law at Stanford University and author of A History of American Law

"A fresh and elegant portrait of the hero we thought we knew, but didn't, quite. ... An indispensable book about America's 'indispensable man.'"
— Akhil Reed Amar, Sterling Professor of Law and Political Science, Yale University, and author of America's Constitution: A Biography

"One of the best illustrations of the ability of individuals to change the course of history."
— Andrew O'Shaughnessy, Professor of History, University of Virginia

"Ed Larson - with his signature wit and light touch - delivers a living, breathing man, who is revealed to be a true visionary leader, but who also possesses the political savvy and ability to get things done. ... An important addition to the literature on the founding of the United States."
— Douglas Bradburn, PhD, Founding Director, The Fred W. Smith National Library for the Study of George Washington at Mount Vernon

"Highly readable. ... Clears away the naive myths that have so long obscured Washington's ideas and role during the 1780s."
— Kenneth R. Bowling, Co-editor of Documentary History of the First Federal Congress and Adjunct Professor of History, George Washington University

"Larson is a skilled storyteller combining scholarly research with a flair for relating historical events and personages to general readers. Recommended for those who enjoyed Ron Chernow's Washington: A Life as well as biography hounds and history buffs."
— Library Journal

"Fine and engrossing. … Larson engagingly argues that the stretch between 1783 and 1789 was as important to Washington-and to America-as all that preceded and followed it. … [A] splendid account."
— Wall Street Journal

"Utterly fascinating. ... Very readable and highly recommended."
— Journal of the American Revolution

"A detailed and elegantly written account of leadership at the most pivotal moment in our nation's history."
— Philadelphia Inquirer

"Larson is an exceptionally fine and engaging writer. ... He has taken up what might seem to be a niche in this great man's life and career, and found there the core of his personality and his greatness."
— Dallas Morning News

"Larson is a sure guide through the complexities of writing and ratifying the Constitution. ... Dramatic. … Restoring the politics to Washington's rise adds motive and depth to the nationalist who rose north to the rescue."
— New York Times Book Review

"Fantastic... The Washington who emerges in these pages is always human, flaws and all, and yet he still manages to be a figure worth revering for his unwavering sense of duty."
— Daily Beast

"Eloquently written. ... Larson synthesizes a vast amount of primary source material with great aplomb. ... Serious scholarship presented in an engaging and concise manner."
— Washington Times

"Astonishes with continual revelations of a Washington deeply engaged in national affairs and concerned for the floundering United States on the verge of collapse."
— Mental Floss