No One Leaves the Castle (Hardcover)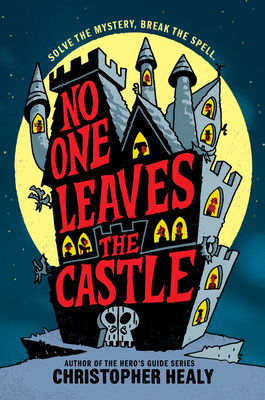 Description
---
The Brothers Grimm meets Knives Out in this unexpected, hilarious, and wholly original fantasy-murder-mystery.
The Lilac. The bard songs say that she's the world's most fearsome bounty hunter. That there's no criminal she can't catch, no mystery she can't solve.
None of that is true. Yet.
In reality, the Lilac is just a kid, and the bard who wrote all that is her best friend, Dulcinetta. But the Lilac has set her goals on becoming the best bounty hunter in the Thirteen Kingdoms—and when a priceless artifact goes missing from the home of famed monster hunter Baron Angbar, the Lilac and Netta are eager to apprehend the thief and make a name for themselves.
But when their investigation brings them to a dinner party at Castle Angbar, and they meet the Angbar family and their servants and guests—an unsavory group of nobles, mages, and assorted creatures, each more shady than the last—the Lilac begins to wonder if the reward is worth the trouble.
And that's before the dead body is discovered.
Now, everyone is magically sealed inside the castle—and there is a murderer among them. If the Lilac wants to make it out with her reputation intact, it's going to be up to her to figure out who the killer is. But everyone in the castle—even the Lilac herself—has secrets to hide, and as the walls literally start to close in around them, the Lilac worries that her first job as a bounty hunter may be her last…
About the Author
---
Christopher Healy is the author of The Hero's Guide to Saving Your Kingdom, a New York Times Book Review Editor's Choice, as well as its two sequels, The Hero's Guide to Storming the Castle and The Hero's Guide to Being an Outlaw. Before becoming a writer, he worked as an actor, an ad copywriter, a toy store display designer, a fact-checker, a dishwasher, a journalist, a costume shop clothing stitcher, a children's entertainment reviewer, and a haunted house zombie. He lives in New Jersey with his wife, two children, and a dog named Duncan. You can visit him online at christopherhealy.com.
Praise For…
---
"If Agatha Christie ran the funniest D&D campaign in the world, it would be this book. Unforgettable characters and a laugh on every page." — Adam Gidwitz, New York Times-bestselling author of A Tale Dark & Grimm
"Take a perfectly-crafted locked-room mystery, set it in a whimsical fairy tale world with a cast of captivating characters, and lace the whole thing with Christopher Healy's rare wit and you get the remarkable alchemy that is No One Leaves the Castle. Every twist and turn is an absolute delight." — Anne Ursu, award-winning author of The Troubled Girls of Dragomir Academy
"A humorous and heartfelt whodunit teeming with unforgettable characters, wacky magic, and nonstop twists. I laughed from chapter to chapter, clue to clue, up to the very last page." — John David Anderson, author of Posted
"In this frenetic, tongue-in-cheek whodunit, Healy blends magic and pandemonium with a locked-room murder mystery, invoking familiar Agatha Christie flair while throwing in copious amounts of dry humor." — Publishers Weekly