Never the Hope Itself: Love and Ghosts in Latin America and Haiti (Paperback)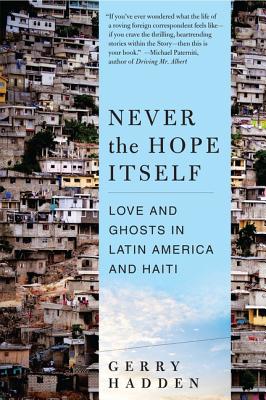 $14.99

Usually arrives at our store in 5-14 business days.
Description
---
A former NPR correspondent takes you into his own ghost-filled life as he reports on a region in turmoil. Gerry Hadden was training to become a Buddhist monk when opportunity came knocking: the offer of a dream job as NPR's correspondent for Latin America. Arriving in Mexico in 2000 during the nation's first democratic transition of power, he witnesses both hope and uncertainty. But after 9/11, he finds himself documenting overlooked yet extraordinary events in a forgotten political landscape. As he reports on Colombia's drug wars, Guatemala's deleterious emigration, and Haiti's bloody rebellion, Hadden must also make a home for himself in Mexico City, coming to terms with its ghosts and chasing down the love of his life, in a riveting narrative that reveals the human heart at the center of international affairs.
About the Author
---
Gerry Hadden is the Europe Correspondent for Public Radio International's The World. He lives in Barcelona with his partner, Mouche, and their two children, Lula and Nino.
Praise For…
---
"Hadden's beat took him to some of the world's most dangerous environments and embedded him among its most deprived cultures…A superb communicator and stalwart reporter, Hadden brings personal compassion and professional craft to this shining insider's glimpse at the people and events that shape the news." — Booklist
"Exciting, heart-wrenching....Grim, sobering tales fashioned by a terrific writer brave enough to unearth the real story." — Kirkus Reviews
"Gripping....It's the rare journalist who shows such a mystical bent, but Hadden's quirks and openness give his book a rare charm." — Publishers Weekly
"One hell of a ghost story....Hadden shows his subjects in all their humanity, capturing the worst and best of the human spirit along the way." — Dan White, author of The Cactus Eaters
"In correspondent Gerry Hadden's existential searches through Latin America, Haiti, Mexico City, and material for the daily deadline, he delivers the highs and lows of stories that recall Graham Greene. And like Greene, finds he is himself at the heart of the matter." — Jacki Lyden, Contributing Host & Correspondent, NPR News; author of Daughter of the Queen of Sheba
"If you've ever wondered what the life of a roving foreign correspondent feels like--if you crave the thrilling, heartrending stories within the Story--then this is your book." — Michael Paterniti, author of Driving Mr. Albert
"Radio news won't be the same again. Suddenly, the voice has a face, and it's unforgettable....Never the Hope Itself is a welcome antidote to the bullshit of the bullets-and-balls memoirs oozing out of so many journalists these days." — Rory Nugent, author of Down at the Docks
"Gerry Hadden tells a strange, intimate tale of migrants and ghosts, of lost Guatemalans and Haitian witch doctors, of love in lands in tumult. Read it and you'll know why `foreign correspondent' is the coolest damn job in the world." — Sam Quinones, author of Antonio's Gun and Delfino's Dream