How to Love Wine: A Memoir and Manifesto (Paperback)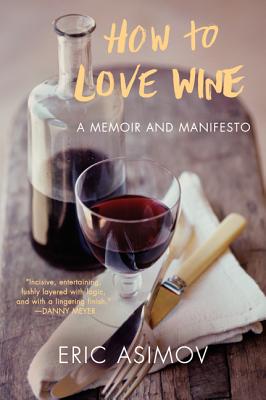 $20.39

Usually arrives at our store in 5-14 business days.
Description
---
Eric Asimov, the acclaimed chief wine critic for the New York Times, has written a beautiful and thought-provoking combination memoir and manifesto, How to Love Wine.
With charm, wit, and intelligence, Asimov tells how he went from writing beer reviews for his high school newspaper on Long Island to the most coveted job in the industry. He evaluates the current wine culture, discussing trends both interesting and alarming, and celebrates the extraordinary pleasures of wine while, at the same time, questioning the conventional wisdom about wine.
Whether you're a connoisseur or a novice, already love wine or want to know it better, How to Love Wine: A Memoir and Manifesto is the book for you.
About the Author
---
Eric Asimov is the chief wine critic of the New York Times, where his weekly column appears in the Dining section. He is married to Deborah Hofmann, has two sons, Jack and Peter, and lives in Manhattan.
Praise For…
---
James Beard Foundation Book Award Nominee for the the Who's Who of Food & Beverage in America Inductee —
James Beard Foundation Book Award Nominee for Beverages —
"A wonderfully intimate memoir-cum-manifesto from a writer comfortable with his own ability as a wine writer who's not afraid to say it as it is. . . . One of the more enjoyable and fluid wine books to read all year." — Jancis Robinson
"Wine aficionados are always bickering among themselves. . . . In his delicious new book, New York Times chief wine critic Eric Asimov cuts through all of this background noise and reminds us of the elemental and undeniable fact that wine is ... sheer pleasure." — Oregon Live
"Eric Asimov sees through the snobby froth of 100-point scores and tutti-frutti tasting notes to the realities of wine, 'staple grocery and occasional star,' as he calls it. How to become America's most trusted wine critic? Read it here." — Hugh Johnson
"In his highly personal, utterly unpretentious book, Asimov makes clear that the most important thing about wine is enjoyment. Any deeper understanding--and for him food, culture, farming, and more count for a lot--depends on it." — Ed Behr
"This book might have been titled A Healthy Dose of Fresh Air. How modestly and reasonably Asimov dares to slay the wine dragons. I reveled in each and every thrust and parry." — Kermit Lynch
"Excellent . . . [a] thoughtful read. . . . Like a crisp glass of Sancerre, How to Love Wine is an especially refreshing breeze through the hot air and pretension that's so prevalent in wine culture." — Sacramento Bee
"A friendly, well-written approach to enjoying wine, full of low-stress recommendations to help avoid wine anxiety." — Kirkus Reviews
"Forget the snooty trappings of wine connoisseurship—just drink up and enjoy, argues this simultaneously down–to–earth and romantic meditation…. Asimov sprinkles in lively reminiscences of his journalism career and the idiosyncratic culture of wine cognoscenti, and enchants and reassures by his warm savoring of the drinking experience." — Publishers Weekly
"Wine fanatics, or those angling for entry to the world of wine, will find comfort in…Asimov's down–to–earth discussion of loving wine. Moreover, what he argues is most essential for a relationship with wine, and what's most refreshing to read, is an approach free of anxiety and open to love." — Booklist