The Seven Ages (Paperback)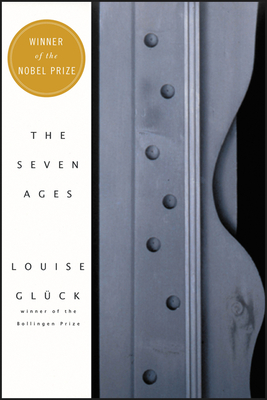 $16.99
Usually arrives at our store in 2-8 business days.
Description
---
Winner of the Nobel Prize in Literature
The masterful collection from the acclaimed Pulitzer Prize-winning author of The Wild Iris and Vita Nova
Louise Glück has long practiced poetry as a species of clairvoyance. She began as Cassandra, at a distance, in league with the immortal; to read her books sequentially is to chart the oracle's metamorphosis into unwilling vessel, reckless, mortal and crude. The Seven Ages is Glück's ninth book, her strangest and most bold. In it she stares down her own death, and, in doing do, forces endless superimpositions of the possible on the impossible—an act that simultaneously defies and embraces the inevitable, and is, finally, mimetic. over and over, at each wild leap or transformation, flames shoot up the reader's spine.
About the Author
---
Louise Glück won the Pulitzer Prize for The Wild Iris in 1993. The author of eight books of poetry and one collection of essays, Proofs and Theories: Essays on Poetry, she has received the National Book Critics Circle Award for Poetry, the William Carlos Williams Award, and the PEN/Martha Albrand Award for Nonfiction. She was named the next U.S. poet laureate in August 2003. Her most recent book is The Seven Ages. Louise Glück teaches at Williams College and lives in Cambridge, Massachusetts.
Praise For…
---
"[Glück] is radiant in her frank self-questioning and glorious in her jousting tournament with time…Glück's poems are so right, so true, they're virtually telepathic."
— Booklist

"As always, Glück demonstrates incredible craft; this is assured and quietly beautiful poetry."
— Library Journal

"Every poem in The Seven Ages [is] a weighty, incandescent marvel."
— Melanie Rehak, The New York Times Book Review