The Hooded Gunman: An Illustrated History of Collins Crime Club (Hardcover)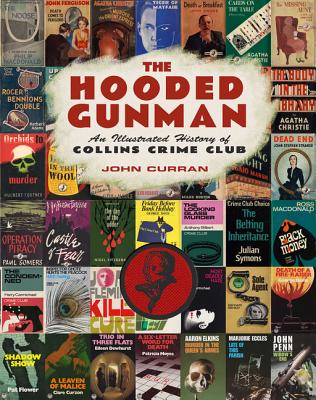 $50.00
Not currently available - email or call for details
Description
---
Winner of the 2019 H.R.F. Keating Award for best biography or critical book related to crime fiction
A lavish full-colour celebration of the 2000 books by more than 250 authors published by the iconic Crime Club between 1930 and 1994.
The Hooded Gunman was the sinister figure who, having appeared in various guises on the covers of Collins' various series of Mystery and Detective books in the 1920s, finally gained recognition with the launch of Collins' Crime Club, becoming the definitive imprint stamp on more than 2,000 books published by that august imprint between 1930 and 1994. From Agatha Christie to Reginald Hill, the Hooded Gunman was a guarantee of a first-class crime novel for almost 65 years, and those books are now as sought after and collectable and almost any other book series, with many commanding high prices and almost impossible to find.
In the year that Collins - the publisher founded by William Collins in Glasgow in 1819 - is enjoying its 200th birthday, this book celebrates probably its most famous publishing imprint. Written and researched by Agatha Christie writer, expert and archivist Dr John Curran, this sumptuous coffee table book looks back at the history of the Crime Club and its authors, showing the jackets of every book published by the imprint over seven decades, and the descriptive 'blurbs' of every book, running to more than 350,000 words.
With facts, figures and lists, and drawing on rare archival photos, correspondence and marketing materials, it is the first time that anyone has attempted to chronicle the publishing of the Crime Club - the ultimate book for fans of crime fiction and also of twentieth century book jacket design.
The Hooded Gunman won the H.R.F. Keating Award for best 2019 biography or critical book related to crime fiction, and was also nominated for an Edgar Award from the Mystery Writers of America.
About the Author
---
John Curran wrote his doctoral thesis on the Golden Age of Detective Fiction at Trinity College, Dublin. For many years he edited the official Agatha Christie Newsletter and acted as consultant to the National Trust during the restoration of Greenway House in Devon. His books about Dame Agatha's notebooks won numerous nominations as well as the Agatha, Antony and Macavity non-fiction crime-writing awards, and he is continual demand as a speaker and expert on the genre.